The Best Of The Best: These Are The Sex Toys You Need In Your Life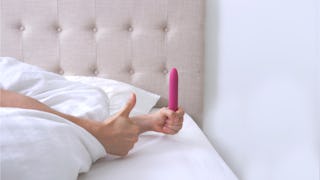 Shutterstock
If you happened to be thumbing through the October issue of Glamour magazine in the grocery store checkout line, your doctor's office, or while soaking in the tub, and you didn't flip right to page 125 and read the spread on "The Sex Toy Awards," then you are not me.
I really didn't care who was peeking over my shoulder because it's 2017 and women are sexual beings who like their toys. And we all know knowledge is power, so why wouldn't I do my "research" and study up before I purchase my next handheld pleasure stick?
The article did not disappoint. First up was the Most Presentable-Looking Toy (yes, please). I mean, these battery-operated boyfriends can look a bit intimidating, and there are times when women may want something cute and modern that would look nice displayed on our nightstands next to our antique lamp, stack of books, and sand dollar collections. Although, if you have kids who can get around, you probably keep that shit locked up because we all know pretty things that make noise draw them in like a magnet. So, for function and form, Glamour recommends the Lelo Soraya ($239), and she's a beaut.
Personally, I like the Satisfier Pro Deluxe because it's rechargeable, fits nicely in the front pocket of my purse , and makes it super-easy to travel with — or hide from children. More importantly, the color scheme matches my bedroom.
If you haven't yet dabbled in the world of handi-snacks for your lady bits, Lane Moore told Glamour she highly recommends the Iconic Bullet from Jimmyjane. Hello, for $16 you should buy two. She loves it because it's "straightforward and not some major investment if you don't end up loving it." Even if you only get your jollies once and never use it again, it's worth it.
Looking for a new bedroom game to spice things up with your lover? The Njoy Pure Wand is a must. Kate Sloan tells Glamour it's "widely considered the best G-spot toy ever. This C-shaped stainless steel dildo can also be used to tease the prostate — or P-spot." Vibrators aren't only for vertical tacos, ladies. Get armed, dangerous, and take control while giving your man a ride with one of these babies.
The Couples Enhancer Ring gets first prize in my book. It's Adam And Eve's top-seller and is designed to fit around his thrill drill to guarantee it stands at attention while the vibrations take your clitoris to heaven and back — then back again. Not that I would know from personal experience.
But ladies, I saved the best for last: the Womanizer.
Yes, it deserves its own sentence — this jewel is the best in show. She is no supporting actress, no. This is the leading fucking lady in the best picture of the damn year. This one deserves all the awards. The gorgeous specimen forms a seal around your clitoris while sucking and vibrating. So basically, for $168, you have an oral sex servant you can take anywhere. I would have paid $400.
Your tickle trunk will not be complete with out some accessories. Prepare to have your mind blown with the Amelia Lube Vial Necklace. Yes, a lube necklace. What a time to be alive. For $60, you can wear a necklace around town and know you have plenty of lube dangling around if the right moment happens to present itself. You never know when you are going to need some lubrication for fornication while running errands, lunching, or if you happen to have a few extra minutes to stop by your partner's office after dropping the kiddos off at school. Life is amazing.
So there you have it: the best kinky toys that are sure to leave a smile on both sets of your lips. Stock up on batteries and buy an extra charger — you're going to need them. Trust me.
This article was originally published on