School Destroys Betsy DeVos On Twitter After She Criticizes Its Teachers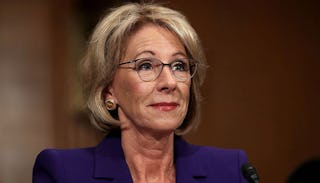 Image via Chip Somodevilla/Getty Images
School stands up for its teachers after DeVos insults them
When new Education Secretary Betsy DeVos visited a Washington D.C. middle school – for the second time, after she was blocked from entering on her first trip – she didn't like what she saw from the teachers, and said so.
The school responded on Twitter. With a vengeance.
Betsy DeVos can't catch a break. Unless you count the one Vice President Pence gave her when he cast the tie-breaking vote that confirmed her as our new Secretary of Education. But other than that, she's making headlines for all the wrong reasons.
First she was barred from entering Jefferson Academy by protesters, then the Education Department's Twitter account misspelled both the name of W.E.B. DuBois and the word "apology" in the tweet correcting their mistake. It's almost as if the person running the Department of Education isn't qualified and doesn't know what she's doing!
Many people across the country are pretty certain she doesn't, which is what makes the comments she made about Jefferson Academy so galling. In an interview with TownHall, the new Education Secretary criticized the school's teachers. "I can tell the attitude is more of a 'receive mode.' They're waiting to be told what they have to do, and that's not going to bring success to an individual child. You have to have teachers who are empowered to facilitate great teaching."
The person running the Jefferson Academy Twitter account didn't take kindly to Mrs. DeVos's assessment, and let loose an incredible eleven-tweet rant explaining exactly why she's wrong.
Wow. Ya burnt!
DeVos tried a little bit of damage control with a few conciliatory tweets of her own:
But the damage was already done. The damage was done the minute the Vice President broke the tie.
DeVos has little credibility with the American people, particularly with the teachers, administrators, and employees who've been toiling within the public school system for years. A system with which DeVos has no personal experience.
It seems clear she has a lot to learn, and a lot of relationships to build, if she wants to win the trust of the people within the system she's hoping to improve. She's not off to a great start.
This article was originally published on