Betty White's 99th Birthday Plan Honestly Sounds Like An Ideal Quarantine Bday
by Julie Scagell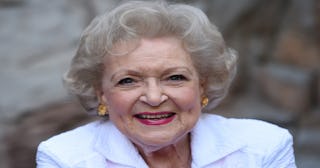 Wireimage/Getty Images
Betty White is a national treasure and today, January 17, 2021, she celebrates her 99th birthday
TV icon, comedian, and all-around badass Betty White turns 99-years-old today. She is best known for her role as quirky and innocent Rose Nylund on Golden Girls, but she's captured our hearts by just being her unapologetic, hilarious self and her plans for this year's birthday celebration sound as perfect as she is.
"Since I am turning 99, I can stay up as late as I want without asking permission!" she told The Associated Press in an email. Her birthday meal will be none other than a classic hot dog and a side French fries brought to her by her longtime friend and agent, Jeff Witjas. He also brings her roses every year because she is a queen and deserves to be treated as such.
She also plans to feed a pair of ducks that regularly visit her Los Angeles-area home and if a hot dog, one friend, and hanging with some ducks isn't the perfect quarantine birthday, we don't know what is. White's devotion to animals has been well-documented for decades. For nearly 40 years, she's served as a trustee of the Greater Los Angeles Zoo Association and is an outspoken advocate of the work that zoos do. Next month, she's even putting out a DVD and digital release of Betty White's Pet Set, a series from the '70s in which she visited her celebrity pals and their pets as well as wild animals.
White's career has spanned decades from 1949's Hollywood on Television to a 2019 voice role in Forky Asks a Question on Disney Plus. Also, her roles in Golden Girls and The Mary Tyler Moore Show have made her a national icon.
If you're wondering how to celebrate Betty White today in honor of her birthday, perhaps consider this prayer candle. We should all collectively be praying over one of these that White lives forever and this Etsy shop owner sells a candle that can burn as long as she has.
Let year, Ryan Reynolds posted a video to Twitter in which he and Sandra Bullock sang to their co-star from The Proposal. The clip kicks off with Bullock singing "Happy Birthday" to the iconic actress before Reynolds finishes the song. Here's hoping they'll reprise their roles as birthday singers this year.
White's work, as well as her comedic timing, has earned her five Emmy Awards, including one in 2010 for a guest-host appearance on Saturday Night Live, which earned her well-deserved praise from fans.
What does White think of aging? "So you may not be as fast on your feet, and the image in your mirror may be a little disappointing, but if you are still functioning and not in pain, gratitude should be the name of the game," she said in her 2011 book If You Ask Me (And Of Course You Won't).
We should all be grateful for 99 years with her.
This article was originally published on