Beyoncé Performs At Fundraiser For Blue Ivy's School Giving Us Serious PTA Envy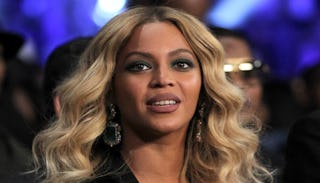 Image via Issac Brekken/Getty Images
Beyoncé wowed parents at a recent fundraiser for daughter Blue Ivy's school
Imagine you're helping plan a fundraiser for your kid's school. The PTA hired Buckles the Clown and rented a super cool bouncy house along with a snow cone machine offering 17 different flavors. That's nice. Too bad your fundraisers will forever pale in comparison to the one at Blue Ivy Carter's school where Beyoncé performed in front of an audience of incredibly lucky parents.
According to Celebuzz, Beyoncé showed up at the Shrine Auditorium & Expo Hall in Los Angeles last night to give a performance to raise funds for Blue Ivy's school. All parents with kids attending the Center for Early Education in LA are probably feeling seriously fortunate right now. Who needs a bake sale when you have the Queen Bey?
Her performance featured a highly emotional rendition of Whitney Houston's hit "I Will Always Love You." She also sang some of her most popular anthems including, "Crazy In Love," "Single Ladies" and "XO." She sang and danced her way through the set accompanied by back-up dancers and judging by the videos that have surfaced online, she absolutely slayed.
Is this life? Can you imagine going to your kid's school fundraiser and freaking Beyoncé saunters onstage in a tiger-print dress to belt out some of her biggest hits? Of course, the parents at a school deemed good enough for little Blue Ivy are definitely not your average Honda Odyssey-driving PTA moms. They likely run in circles that include other celebrities and Beyoncé arriving at their event was probably exciting, but not totally unexpected. Regardless, it must have been pretty incredible to see.
As parents, we contribute what we can to make our kid's school a better place. We all have talents and whether you're great at organizing the yearly bottle drive or helping out in your child's classroom, any help is appreciated. When you're Beyoncé, that help is on a bit of a different scale.
It's not as though Mrs. Carter can waltz through the door and assist in the mundane tasks that keep a school moving without causing a huge disruption to the staff and students. Some might see what she did at the fundraiser as showy and over-the-top but the fact is, she's doing what she does best to benefit Blue Ivy and the other kids at her school. It's what any parent with a special talent to contribute should be doing. She simply happens to be beyond famous and talented.
Our hats off to you, Beyoncé. You're just a mom doing what you can to help with your daughter's education. And that's something we can all understand.
This article was originally published on