You Can Get A Matching BFF Necklace With Your Dog And Honestly, Why WOULDN'T You?
by Valerie Williams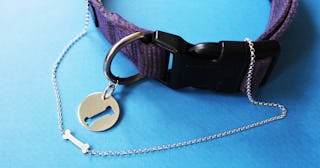 SlashpileDesigns via Etsy
Who's more worthy of your BFFship than your pooch? No one, that's who
If you're like me and spend your literal entire day cooing at and snuggling your dog, then it's clear as day who your true BFF is. Then why not shout that love loud and proud with matching necklaces just like the ones we got with our childhood friends — only one of you wears it on a collar?
Etsy shop SlashPile Designs brings us the cutest matching BFF necklace/collar combos you'll ever see. I'm loading up my cart as we speak, because everyone needs to see that my Lucy girl is my #1, obviously. The only trouble is picking one from the adorable designs available.
There's this little bone number that you'll instantly fall in love with. What better way to prove your loyalty to your Very Good Boy or Girl?
You know your doggo will be feeling this blatant show of affection for their beloved hooman.
Bonus? They're made of sterling silver and truly very pretty.
Bones not really your speed? Want to show everyone you meet that your dog is literally your heart? Then give this sweet set a try.
They have your heart, you have theirs.
So perfect. It really says it all, don't you think?
Now, maybe you're sitting there reading this while cuddling your cat and wondering why on earth you and your feline fren are being left out. Worry not. You and your pretty kitty are totally covered too.
Come on now. Even a dog person has to find this ridiculously precious.
Your cat probably won't ever admit how much she enjoys her special connection to you but just know that she's feeling it somewhere deep down. Maybe the next time she sticks her butthole in your face it's her way of saying "yes, fine, I love you too."
If you'd like to extend your pup worship beyond a piece of jewelry, maybe it's time you buy some matching pajamas for the two of you.
This is the kind of content we log on for TBH.
Obviously you'll need some slippers to go with those PJs and yes, you can dedicate those to your dog too,
OK, you should be all swagged out now and ready to show the world who your real BFF is. And honestly, it's about time.
This article was originally published on