BFFs Celebrate 23-Year Friendiversary With Chicken Wings And Beer Photoshoot
by Christina Marfice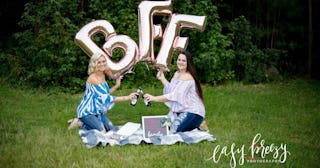 Courtesy of Breana Welch/Easy Breezy Photography
BFFs who eat wings and drink Michelob together stay together, and this photo shoot is proof
When you and your bestie have been friends for 23 years, there are a lot of ways to celebrate. But none better than grabbing wings from your favorite bar, a cooler full of Michelob Ultra, and staging a Friendiversary photo shoot to celebrate more than two full decades of being BFFs.
That's exactly what Samantha Clark and Christina Arthur, a pair of South Carolina moms and longtime BFFs, did. They hired Breana Welch of Easy Breezy Photography to capture them at the truest essence of their friendship —chowing down on wings and shotgunning beers — and the result has women everywhere reaching for their phones to call or text their besties.
Arthur told Scary Mommy the two have been friends since they were next-door neighbors as kids., dating all the way back to 1996 They navigated teenage years together all the way to having babies and becoming bonafide grownups, and have stayed BFFs through it all.
"About 6 or 7 years of age is when Samantha moved in next door to me," Arthur said. "We have been best friends since day one!" Clark echoes that sentiment. "We just clicked with each other you know? We became more than just friends, pretty much like family! Her family always included me and my family always included her."
She continued, "My family became a second family to her and hers to me! We pretty much did everything together. I remember one day Samantha coming home and she had gotten her ears pierced. I ran straight to my dad and said, I need my ears pierced! Samantha has hers done and I need to have mine done too! We both looked up to each other. We both played softball together and absolutely loved the game."
Clark shares a sweet memory of her BFF from one of her family's holidays. "I remember one year we had a Christmas party, Christina was there of course. So there was something under each person's chair. Maybe you got a gift or maybe you had to act something out. Well Christina had, 'sing Frosty the Snowman' and when it was her turn, she was so embarrassed and nervous she just started crying. Still to this day we laugh about that story."
Through all the years, these girls have been there for each other, apparently with a lot of wings and beer along the way. As any good BFFs relationship should go.
"We've always been beside each other for everything," Arthur said. "Marriage, divorce, having children. This friendship started so young and it grew into something so much more than just best friends. We became more like sisters." Clark adds, "We were even pregnant at the same time with our last ones! We've went through many things together and I'm just beyond grateful to have had her there for me through the good and bad. Our friendship is so special. Not many people can say that they have had someone in their lives as long as we have."
Arthur totally agrees. "It truly is a blessing to have such an amazing person in not only my life, but my children's life as well! Thick and thin, rain or shine we will always have each others backs."
That is clearly the case, and these BFFs and their hilarious photo shoot have inspired a lot of besties — their photographer now has a page full of best-friend photo shoots. If there's a better way than that to celebrate the best girlfriends in your life, we don't know what it is. BRB, scheduling a bestie shoot of my own.
This article was originally published on