Biden's Dog, Major, Will Get His Own 'Indoguration'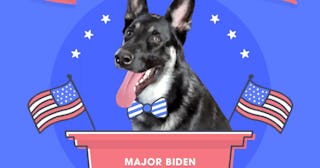 Delaware Humane Association/Facebook
The live-streamed event, hosted by Major's former shelter, also hopes to set the record for 'largest virtual gathering of dogs'
As we all eagerly — and impatiently — await President-elect Joe Biden's inauguration this month, his rescue dog, Major, will have an adorable party of his own: an "Indoguration" on Jan. 17.
Hosted by Major's former home, the Delaware Humane Association (DHA) shelter in Wilmington, the celebration — appropriately named Major Biden's Indoguration Party — will be live-streamed for anyone to watch for a small fee.
"From shelter pup at Delaware Humane Association to First Dog at the White House, Major Biden is barking proof that every dog can live the American dream," DHA said, per People. "To celebrate this historic Indoguration and raise funds to help more shelter animals like Major find their furever homes, DHA & Pumpkin Pet Insurance have teamed up to throw the world's largest virtual party for dogs!"
Hosted by Today Show's Jill Martin — and featuring special guest Beaux and Paws by Sir Darius Brown, a 14-year-old entrepreneur and animal advocate — the live-streamed Indoguration will raise money to support DHA and help more shelter animals, like Major, "live the American Dream," according to the event description.
According to Brown, per CBS News, participants can nominate their dogs to depart of Major's Cabinet as the "Secretary of Rescue Dogs," and Brown will choose the winner.
The event also hopes to set a record for "the largest virtual gathering of dogs."
"We are thrilled to participate in what will hopefully be the world's largest Zoom call for dogs," DHA's executive director, Patrick J. Carroll, said in a statement. "2020 was a tough year for all of us financially — both for animal shelters and pet owners alike. Here at DHA our mission is to make 'friends for life' by connecting people with animals, and by building strong relationships to better serve our community. With Major heading to the White House, it's our sincere hope that we can continue to connect more homeless animals with families than ever before. If a shelter dog is good enough for the White House, they're good enough for your house!"
The Bidens adopted the German Shepard in November 2018.
"We are so happy to welcome Major to the Biden family, and we are grateful to the Delaware Humane Association for their work in finding forever homes for Major and countless other animals," the Bidens said in a statement shortly after Major's adoption.
And when the Bidens move into the White House, Major will be become the first rescue dog to take up residence — joined by the Bidens' other dog, Champ.
"Having played a part in Major Biden's story is an honor," Cory Topel, a marketing manager at DHA, told CBS News in November. "This is what we strive for when animals come into our care: to help them find their happy ending."
Major Biden's Indoguration Party, which is co-hosted by Pumpkin Pet Insurance, takes place Jan. 17 at 3 p.m. ET. To RSVP, visit DHA's website. DHA is asking for a donation of $10 or more to join the event, with all proceeds going to the shelter. So far, according to a Pumpkin Pet Insurance rep, they've raised more than $22k for the shelter.
This article was originally published on