The First Trailer For 'Big Little Lies' Season 2 Just Dropped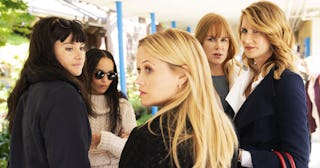 Image via Jennifer Clasen/HBO
School fundraising events will never be the same
Now that the first episode of the final season of Game of Thrones is officially in the books, folks are gonna need something else to look forward to (besides the second episode of Game of Thrones). Lucky for us, the "Monterey Five" have it covered and the first trailer for Big Little Lies Season 2 just dropped to get us all revved for what's to come.
If you've not seen the first season of Big Little Lies, what are you waiting for? The series, based on the best-selling book by Liane Moriarty, was much anticipated, not just because of its star-studded cast, but because Moriarty's book left readers hanging on every word until the bitter end.
The show is told through the eyes of three moms: Madeline (Reese Witherspoon), Celeste (Nicole Kidman), and Jane (Shailene Woodley), with Renata (Laura Dern), and Bonnie (Zoe Kravitz) intertwined in the death of Celeste's abusive husband Perry (Alexander Skarsgård). Just when you thought you couldn't get any more talent into the show, the producers decided to add Perry's mother, Mary Louise, played by none other than Meryl Streep.
"I loved this show. I was addicted to it," Streep told Entertainment Weekly earlier this year. "I thought it was an amazing exercise in what we know and what we don't know about people, about family, about friends, how it flirted with the mystery of things, what was unsaid, unshown, unknown, was sort of the gravitational pull of the piece, and it was so exciting so…I wanted to do it to be part of that world."
We are so very happy she will be. We've known about the second season since 2017, and very much like GoT, have been waiting on pins and needles ever since. "I'm thrilled to be bringing back this talented team of artists," Witherspoon said in an article posted to HBO.com. "It gives us the opportunity to delve deeper into the lives of these intriguing and intricate Monterey families and bring more of their stories back to the audience who embraced and championed them."
In the trailer, the women are seen sitting in a car talking about the murder and cover-up. "We're kidding ourselves if we think people will stop talking," Celeste tells Madeline, Jane, and Renata. They also reveal Jane telling the ladies she was approached on the beach by a man asking if she was part of the so-called Monterey Five. "Just the way he said it, you know. Like we all have scarlet letters on our backs," Jane tells the group. Run ladies, run.
David E. Kelley is back to write all the episodes for Season 2, so you just know it's going to be juicy. And with Streep hot on the ladies' tails, it's only a matter of time before the truth comes out. "I want to know what happened that night," Streep says to Madeline. "I'm very tempted to ask you, but I don't think I would get the truth, would I?"
Season 2 will premiere on HBO on June 9th.