Bill Cosby Declared Guilty On All Counts In Sexual Assault Retrial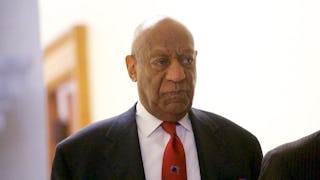 Image via Mark Makela/Getty Images
Bill Cosby found guilty of sexual assault and now faces up to 30 years in prison
Bill Cosby was declared guilty of sexual assault in a retrial after six women testified that the disgraced former comedian and actor drugged and sexually assaulted them.
Cosby, age 80, faces up to 10 years in prison and a fine of up to $25,000 on each of all three counts of aggravated indecent assault against Andrea Constand. She accused Cosby of drugging and assaulting her in January 2004 at his Pennsylvania home. The first trial ended in a mistrial last June.
Since Constand's accusations, Cosby has maintained that their sexual contact was consensual. According to NBC News, the jury returned to the Pennsylvania courtroom yesterday after a few hours of deliberation to ask, "What is the legal definition of consent?" Montgomery County Common Pleas Judge Steven O'Neill told them he could not give them a legal definition and they would have to answer that themselves using "common sense."
The jury's verdict was handed down after 14 hours of deliberation over a period of two days. They heard testimony from five of Cosby's other accusers called by the prosecution in an attempt at establishing that Cosby's behavior and the acts Constand was accusing him of were a pattern he repeated with other victims. Assistant Montgomery County District Attorney Kristen Feden said, "He preyed on Andrea Constand the same way he preyed on all those five women."
Cosby's lead attorney, Tom Mesereau, asked pointed questions about each accuser's history of drug use, their sex lives, and their criminal backgrounds. Defense attorney Kathleen Bliss was especially gross in her questioning of accuser Janice Dickinson, a model who accused Cosby of assaulting her in a Lake Tahoe hotel room in 1982.
Bliss called Dickinson a "failed starlet" and "an aged-out model."
"It sounds like she has slept with every single guy on the planet," Bliss said. "Is Ms. Dickinson really the moral beacon that women's movements want?"
The defense also suggested accusers were putting forth false allegations in the hopes of making money or becoming famous themselves. Lili Bernard, another Cosby accuser who watched the trial in the courtroom said, "It was based solely on rape myths, on victim blaming, on victim shaming and on a character assassination of really credible witnesses, of very righteous victims, of victims that were clearly telling the truth."
Feden also had words for Cosby's attorneys, specifically Bliss. "That character assassination that Ms. Bliss put those women through was utterly shameful," she said. "She's the exact reason why women, victims of sexual assault and men don't report these crimes."
In a civil suit settled with Constand in 2006, Cosby admitted to giving women Quaaludes so he could have sex with them. In 2015 when that suit went public, Montgomery County prosecutors approached Constand's attorney, Dolores Troiani, to see about reopening the case.
After the verdict, Cosby reportedly lashed out at the prosecutor.
According to The Associated Press, in addition to shouting, "He doesn't have a private plane, you asshole," an expletive Cosby used in reference to District Attorney Kevin Steele, who was trying to get the newly convicted felon's bail revoked, Cosby also yelled, "I'm sick of him!"
Cosby continues to deny similar assault allegations from more than 60 other women.
This article was originally published on