Here's Why Women Need To Have The Power To Decide When They'll Get Pregnant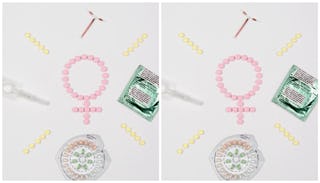 Women need to have the power to decide when they get pregnant
"It's amazing what a contraceptive can do. When a woman has the power to decide when to get pregnant, she has power over her future." Bill and Melinda Gates are reminding the world that if we want to end poverty and reduce unplanned pregnancies, then we've got to support and empower women — with birth control.
About 10 years ago, Berkshire Hathaway CEO Warren Buffet gave the Gates Foundation $31 billion in company stock. To highlight all the good they've done with that money the couple released a detailed report that shows the extreme benefits of providing family planning services to women.
"When women in developing countries space their births by at least three years, their babies are almost twice as likely to reach their first birthday. Over time, the ability of women to use contraceptives and space their pregnancies will become one of the largest contributors in cutting childhood deaths," Bill wrote in the report he and Melinda co-authored. Access to birth control gives women something everyone deserves – freedom – freedom to choose when to have babies, how many, and under what circumstances. Giving women the ability to plan when and how they will become pregnant has tremendous benefits for mothers, families, and society as a whole.
"Contraceptives are also one of the greatest antipoverty innovations in history," Melinda wrote. "When women are able to time and space their pregnancies, they are more likely to advance their education and earn an income—and they're more likely to have healthy children." Having healthy children is a crucial component that Melinda highlighted in a video on how birth control helps society. In developing countries, babies often die from health-related issues and moms are put into a constant state of pregnancy, which prevents them from healing from childbirth, caring for their other children and themselves, and working.
Contraceptives like the pill or IUDs also let women stop having children they can't raise. "I remember visiting the home of a mother in Niger named Sadi, whose six children were competing for her attention as we talked," Melinda shared. "She told me, 'It wouldn't be fair for me to have another child. I can't afford to feed the ones I have.'" Being able to plan a pregnancy also reduces the risks of mothers dying during childbirth. Melinda explained: "In Senegal a few years ago, I was visiting with a number of imams who were talking about how contraceptives are consistent with Islam. One young imam, whose babies had been very tightly spaced, told us, 'My wife died in childbirth because I didn't let her use contraceptives, and now I'm raising our children alone.'"
Unfortunately, the couple faces an uphill battle with Donald Trump, who reinstated a law that eliminates safe health care options for women around the world. The global gag order bans federal funding for international health organizations that perform or even speak with patients about abortion services. Bill told the Guardian that Trump's decision to reinstate the ban could "create a void that even a foundation like ours can't fill." Melinda added: "It's likely to have a negative effect on a broad range of health programs that provide lifesaving treatment and prevention options to those most in need."
The significant work Bill and Melinda do is saving lives around the world. Regardless of political preference, empowering women is something we should all support.