Billie Lourd Welcomes Baby And Honors Her Late Mother Carrie Fisher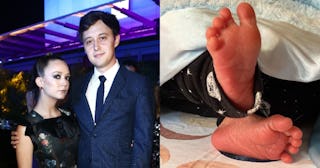 Tommaso Boddi/Getty/Instagram
Billie Lourd and fiancé Austen Rydell have quietly welcomed a son, paying tribute to his late grandmother, Carrie Fisher, in a special way
Ever since the untimely death of her mother, Carrie Fisher, in 2017, Billie Lourd has been finding creative and incredibly touching ways to honor the actress, author, and pop culture icon. For example, on what would have been Fisher's 63rd birthday, the American Horror Story actress shared a video of herself singing her mother's favorite song, and, on the one-year anniversary of her death she visited the Northern Lights in Norway — a place her mother always wanted to experience. However, this week Lourd revealed her most touching tribute yet: she has welcomed her first child and has given the new baby his grandmother's last name as his middle name.
In a surprising announcement posted on her Instagram account on September 24, Lourd revealed that she and fiancé Austen Rydell have welcomed a baby boy.
https://www.instagram.com/p/CFie3M8HhNb/
"Introducing: Kingston Fisher Lourd Rydell," she captioned a super adorable photo featuring the newborn's little feet, adding blue heart emojis and crowns. The baby's tiny outfit may also have been in tribute to the late actress — a black and white outer space-themed sleeping onesie, a la Star Wars.
The baby news was also confirmed by Billie's uncle and Carrie's brother, Todd Fisher.
"I was very touched Billie chose to honor her mother by naming her son Kingston Fisher. It was very unexpected," Todd told E! News. "Billie has been known as Billie Lourd her whole life. It is a very loving thing to give that homage back to Carrie."
According to the outlet, Lourd is doing well and "handled the pregnancy great." They added that due to the COVID-19 pandemic, the extended family has not yet met her bundle of love, but "they are looking forward to meeting Kingston soon."
In June, Rydell revealed that he and Lourd, who have dated throughout the years but most recently rekindled their romance in 2017, were engaged via a sweet Instagram post featuring photos of them throughout the years.
"She said YES!! (Actually she said "Duhhh") But I guess that's even better than yes?!?" he captioned it.
https://www.instagram.com/p/CCwPpXLhlmU/
He followed the post up a week later, dubbing Lourd his fiancée.