Billy Porter Just Revealed His Cinderella Fairy Godmother Role Is 'Genderless'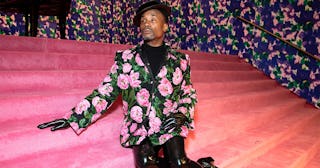 Santiago Felipe/Getty
Playing a genderless Fairy Godmother is "powerful," says Billy Porter
Billy Porter might just be having his best year ever. The Pose star won his first Emmy for his portrayal of Pray Tell, the show's resident ballroom emcee. He's made fashion waves pretty much everywhere he's gone. He made a powerful appearance wearing his iconic tuxedo dress on Sesame Street, teaching kids its OK to be their unapologetic selves and standing up to some bigoted adults in the process. And, last fall, it was announced that he would play the Fairy Godmother in an upcoming live action telling of Cinderella.
It's obviously not typical for a man to play the role of the Fairy Godmother, but it's also a role we can instantly envision Porter just owning. In a new interview with CBS, he explained a little bit more about the thought process behind the role, and how he and the movie's team are approaching it.
"We are presenting this character as genderless — at least that's how I'm playing it," he said. "And it's really powerful."
Powerful is an understatement.
"It hit me when I was on the set last week, how profound it is that I am playing the Fairy Godmother — they call it the Fab G," Porter continued. "Magic has no gender."
Much like his appearance on Sesame Street seems to have taught us, Porter knows that a new generation is ready for a character like a genderless Fairy Godmother in a classic fairy tale. But he also knows he's going to face backlash again from certain people and certain groups.
"[The] new generation is really ready, the kids are ready," he explained, adding that it's "the grownups that are slowing stuff down."
Porter is definitely one major reason we're excited to see this new take on Cinderella, but he's not the only reason. He's going to star alongside Camila Cabello, who's been cast to play the princess. Kay Cannon, who worked on the Pitch Perfect series, is leading the writing team. And the whole idea for this modern retelling of Cinderella came from late night host James Corden, who has signed on as a producer. It really seems like there's a team in place that's ready and able to make this one of the most epic Cinderella movies of all time.
So far, the movie has no set release date. But reports say it's been fast tracked for production, so it's possible it could hit theaters around the holidays later this year.