Billy Porter Writes Touching Note To Conservatives That Criticized His 'Sesame Street' Appearance
by Madison Vanderberg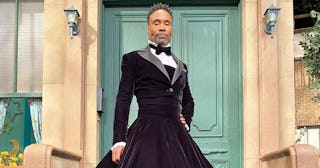 Sesame Street/Instagram
Billy Porter responds with empathy after One Million Moms called out his PBS appearance
Last month, Sesame Street revealed that the radiant and fashion-forward Billy Porter would guest star in the upcoming season of the iconic PBS series. During his episode, Porter wore the epic tuxedo gown that he wore to the 2019 Academy Awards and while most people were like, "YAS!", One Million Moms — an organization that makes it their mission to hate anything that isn't straight — called for a boycott of the network for "pushing" the "LGBTQ lifestyle."
"PBS recently announced that Sesame Street will feature a drag queen activist wearing a gender-bender tuxedo gown in one of its episodes this year," One Million Moms wrote on their site. First of all, a "drag queen activist" in a "gender-bender tuxedo gown" sounds awesome, but One Million Moms *sigh* took offense to it, like they do all things.
"PBS KIDS should not introduce the LGBTQ lifestyle to young children," they wrote before claiming that PBS should not use taxpayers' dollars to "indoctrinate children to the LGBTQ lifestyle."
Despite the bigotry and ignorance at play here, Billy Porter decided to respond to One Million Moms and did so with grace and empathy. No clap-back needed.
"One of the highlights of my life has been the opportunity to sing on the set of @sesamestreet with my new pal, Penelope the penguin. Together, we sang about the possibilities of new friendships with those who may not be exactly like us," Porter wrote on Instagram.
"I know people are all up in arms about me wearing the gorgeous custom @csiriano tuxedo dress," he added. "If you follow me, however, you know the impact it had. The emails, DMs, and messages of good will I received that day (and continue to receive) from parents and their children who have been bullied all over the world and desperately need to see someone like me, being their authentic selves on mainstream media, is far more important than anything #onemillionmoms could ever say. Friendship, kindness and inclusivity shall triumph. And often, it simply starts by saying hi."
Earlier this month, Porter's Sesame Street appearance caught heat from Republican Arkansas Senator Jason Rapert who wanted Arkansas to pull its funding from PBS, inciting the exhausting "promoting the LGBT agenda" narrative again, and honestly when will these conservatives get some new talking points?
It's tragic that a man wearing a dress would cause this much unrest, but we're thankful for people like Porter who use the opportunity to meet their adversaries with empathy and education. We highly doubt the One Million Moms "boycott" will get very far, meanwhile, we'll be here watching Porter dazzle on Sesame Street.