BJ Novak Responded To Mindy Kaling's Glow-Up Meme & The Internet Is Melting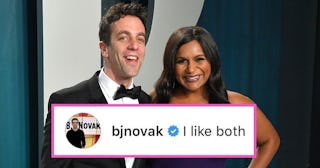 George Pimentel/Getty and Mindy Kaling/Instagram
BJ Novak and Mindy Kaling are #FriendshipGoals and this 100% proves it
Ever since they first worked together as writers and actors on The Office, Mindy Kaling and BJ Novak have been absolute best friends. They even dated for a few years there, back in the early aughts, but it didn't work out. Luckily, even after their breakup, the two stayed close. Today, they're basically the top #FriendshipGoals you'll find anywhere in show business.
And nothing proves it more than the adorable online exchange they just had. Kaling decided to take part in the "Where It Started vs How It's Going" meme challenge that's been sweeping the internet, posting a set of photos that can only be described as a glow-up of the most epic proportions.
For her "How It Started" photo, Kaling used a picture of herself looking very young and a little less than fashionable on the set of The Office in its early days. For her "How It's Going" photo, the star is in full glam, rocking an absolutely gorgeous yellow dress, on the red carpet for the 2020 Oscars.
But the star's glow-up is nothing compared to the sweet message Novak left. Under the two photos, he commented, "I like both."
So how many hearts are absolutely melting right now? Everyone's? Good. Everyone should have a friend like Novak in their life. But that's certainly not the first time his sweet friendship with Kaling has made us swoon.
Take, for example, the Vanity Fair Oscars afterparty earlier this year (pre-pandemic times, obviously). Novak and Kaling attended together, and while they were there, they snapped an adorable, prom-inspired photo together. When Kaling shared it on her social media, Novak commented, "Best accessory is a beautiful superstar." I mean, come on.
In fact, for their entire friendship, Novak and Kaling have been taking these kinds of adorable photos together, especially at that Vanity Fair party, which they seem to have made a little tradition of attending together each year. Here they are getting ready for the 2019 party, looking like the fiercest pair of besties you ever did see.
And on Kaling's 40th birthday, Novak posted this photo from her party. Just look at how he's looking at her. The love between these two is so pure and so sweet.
Novak and Kaling are so close, people have long wondered if he's actually the father of her children. Kaling has never revealed who her 2-year-old daughter Kit's biological dad is, but in a 2019 interview, she shared that her longtime friend is Kit's godfather.
"The truth is that B.J. is so much more like family now than a platonic friend. He's the godfather to my daughter, he comes over like once a week. Sometimes he'll come over just to hang out with her," she said.
Obviously, these two have a friendship that's going to last forever. You love to see it.