Twitter Is Celebrating The Significance Of A Black Barbie That Uses A Wheelchair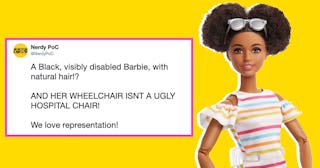 NerdyPoC/Twitter and Mattel
People are loving that there's a Black Barbie with natural hair who uses a wheelchair
Remember when Barbie was just another blonde-haired, blue-eyed, unrealistically proportioned doll? Thankfully, Mattel has been evolving with the times over the last few decades, totally upping their Barbie doll game when it comes to representation. The toy company has expanded the look of their iconic doll, making her more inclusive in regards to body type, race, and career with their 2019 Barbie Fashionistas collection. They have even introduced a doll with natural, black hair — and she uses a wheelchair.
Now available at Target from the Barbie Fashionistas collection is a Black Barbie who uses a wheelchair. She comes with the best accessory — a wheelchair ramp so that she can get in and out of the Barbie Dreamhouse with ease.
Now, this isn't the first time the groundbreaking toy company has sold a doll who was a wheelchair user. They offered one back in 1997, when the company released a Becky doll on wheels. However, the doll, which couldn't fit through the doors of the Dreamhouse, quickly disappeared from shelves.
But the fact that the latest version isn't white and blonde is drumming up major excitement.
The reaction to this latest Barbie collection is overwhelmingly supportive, as there are so many young girls out there who are going to be able to see themselves in the dolls.
And it's especially exciting because the wheelchair isn't some drab hospital version — it's fun and shows that this Barbie's life is about a lot more than the way she gets around in the world. She loves fashion and bright colors. Just like a lot of other young girls who also happen to use a wheelchair.
Twitter users wondered if this Barbie had a truly accessible chair that would work with the Dreamhouse, and yes, Mattel thought of that.
"Barbie doll celebrates diversity with unique fashion dolls that encourage real-world storytelling and open-ended dreams," reads the product description. "With a wide variety of skin tones, eye colors, hair colors and textures, body types and fashions, the Barbie Fashionistas dolls are designed to reflect the world girls see around them today, offering them infinite ways to play out stories and express their style."
People are just really pumped for the double dose of representation here.
https://twitter.com/jetpack/status/1144474525356027905
We applaud Barbie for this brilliantly inclusive line. Finally, our children will be celebrate their diversity in all of its glory.