Has Black Friday Lost Its Luster? It Would Appear So.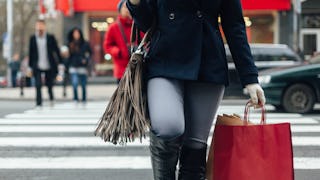 Kikovic_ / Getty Images
Black Friday: It seems people either love it or hate it. There are the die-hard folks who get all suited up with head lamps, boxing gloves, and protective helmets to bulldoze through the crowds to get the best deals. They stay up all night filling their carts. They skip Thanksgiving dessert to wait in line and freeze their ass off to save $50 on the latest electronics or to make sure they get their hands on that special toy for their child because it's sure to sell out.
I get it — it's fun, exciting, and can even count as cardio. But I can't help but feel like this Black Friday thing has gotten out of control, and this is coming from a self-proclaimed shopaholic.
One year, a few days before Thanksgiving, I overheard a conversation between a store manager at Target and his employees. "I know it's tough," he said. "I'm going to be missing Thanksgiving dinner with my family, too, but we can make it fun. We'll have a credit card contest, wear Santa hats, and bring in cookies!"
What?! Honestly, Santa hats notwithstanding, the idea of giving up Thanksgiving dinner to deal with overzealous shoppers sounded so incredibly sad, and the exact opposite of togetherness and giving and everything the holiday is supposed to be about. Retail workers deserve to spend Thanksgiving with their family too.
So, if you hate this whole shopping frenzy and think we have crossed over to the dark side just to save a few bucks, you're not alone. In fact, the day after Thanksgiving (which was originally named Black Friday in 1966 by the Philadelphia Police Department because people would clog the streets and sidewalks, and act like assholes) has lost a bit of its luster throughout the country. According to Steven Barr, the consumer markets leader for PricewaterhouseCoopers, "Black Friday has lost its significance."
The reason? It's no longer what it once was: the one and only day of the year when you could get the best deals. Instead, retailers are offering deep discounts not only during Thanksgiving week and the start of the holiday shopping season, but also throughout the year. And because these amazing sales are spread out, consumers have calmed the fuck down and started to digest their Thanksgiving meal before sprinting to the nearest store.
Of course, online shopping while staying in our stretchy pants after filling our gullets full of delicious comfort food and snagging great deals from the privacy of our own home is another reason the Black Friday mayhem is slowing down.
According to the National Retail Federation, Americans still plan on spending a shit ton of money, it just won't all happen in one day. Barr also told the Chicago Tribune, "The consumer has learned that even if they don't get a deal on Black Friday, they'll still get that deal in the weeks to come." And that is a beautiful thing if you love saving some cash but hate fighting crowds and want to spend quality time around the dinner table during the holiday weekend. How lovely we don't have to choose any longer.
So relax, have another turkey leg instead of hauling your ass to an overcrowded store. Sip some more spiked eggnog and listen to Uncle Ned ramble about who-knows-what for a while. You can have peace of mind knowing those deals will stick around and after Black Friday.