Black Women Did That: 10 Trailblazers To Celebrate For International Women's Day
by Sa'iyda Shabazz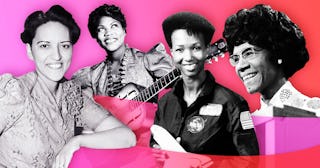 Julia Meslener for Scary Mommy and Bettmann/Michael Ochs Archives/Afro American Newspapers/Pictorial Parade/Getty
As the great Malcolm X once said, "the most neglected person in America is the Black woman." And he's not wrong. For as long as we've been in America, we have been looked over, looked down upon, and generally disregarded. But in spite of the fact that the United States has never given a damn about Black women, we're out here making moves. As we celebrate International Women's Day, we must acknowledge the contributions Black women have made to this country. Here is a list of ten Black women who were trailblazers, from the first Black female doctor to the inventor of the hairbrush.
Lyda Newman
Where would we be without the hairbrush? So many of us use them, but have we ever thought about where they come from? While Lyda Newman wasn't the first person to make a hairbrush, she was the one to patent a new version of the item way back in 1898. Hairbrushes back then were not as easy to use as they are now. Of course a Black woman would make a hairbrush more user friendly. They're not always easy to use on our hair. Newman's hairbrush bristles were made of synthetic materials instead of animal hair. And she designed it to have ventilation and a space to store the hair that came out, which made it much more sanitary and easy to clean. Just remember, don't brush out curls, or you'll look like Chewbacca.
Sister Rosetta Tharpe
Did you know that Elvis, Johnny Cash and Chuck Berry were all influenced by a Black woman? Well now you do. Sister Rosetta Tharpe has been dubbed the Godmother of Rock n' Roll. Known for her blending of gospel, blues, folk, and swing music, she was wiggling her hips and strumming her guitar long before Elvis ever was. In the 1930s and 40s, Tharpe held her own in a male dominated genre. She collaborated with greats like Duke Ellington and toured all over the world. She was also queer, having a long term partnership with fellow singer Marie Knight. The pair even recorded together. While she was largely forgotten in the U.S. after the 1950s, Tharpe was inducted into the Rock n' Roll Hall of Fame in 2018.
Mary Beatrice Davidson Kenner
Many girls and women only know maxi pads with adhesive and wings. But anyone who has read "Are You There God, It's Me Margaret" knows that something existed before then. Old school sanitary napkins were held on by a belt. And a Black woman, Mary Beatrice Davidson Kenner, created the belt. She got the patent in 1957 for an adjustable belt with a built-in, moisture-proof pocket for the napkins, making it less likely that clothes would get stained. "One day I was contacted by a company that expressed an interest in marketing my idea. I was so jubilant," she said. "Sorry to say, when they found out I was black, their interest dropped. The representative went back to New York and informed me the company was no longer interested." Despite the rejection, Kenner continued to invent for the rest of her life.
Mae Jemison
Even as a young child, Mae Jemison knew she'd go to space. But as a Black girl in the 1960s, that felt like an impossible feat. It would be a long road for Jemison to achieve her goal. At the age of 16, she attended Stanford University, graduating in 1977 with a B.S. in chemical engineering and a B.A. in African and African American Studies. She then went to Cornell Medical School, and after receiving her M.D., she practiced medicine and went to Africa with the Peace Corps. In 1987, she applied for NASA's astronaut training program, and was one of 15 chosen. Jemison was NASA's first Black woman astronaut, going to space in 1992 aboard the spaceship Endeavour. She was also the first Black woman in space. After leaving in 1993, she now works getting young women of color involved in tech and STEM.
Dr. Rebecca Lee Crumpler
Living in pre-Civil War era Massachusetts, Rebecca Lee Crumpler worked first as a nurse. In 1860, she applied to medical school, receiving acceptance to the New England Female Medical College. In 1864, Crumpler became the college's first (and only) Black graduate. And as a result of her graduation, she became the first Black woman doctor in the country. She set up practice in Boston first. And after the Civil War ended in 1865, she and her husband moved to Virginia where she could expand her medical services. She and her husband did move back up north, settling in Hyde Park, New York in 1880. There isn't much evidence that she was still practicing medicine at the time. However, she did write a book, "A Book of Medical Discourses in Two Parts," published in 1883 by Cashman, Keating and Co., of Boston.
Jane Bolin
A trailblazer in the law field, Jane Bolin was the first Black woman to attend Yale Law School. That wasn't the only time she was the first though. After graduating from Yale, she was the first Black woman to join the New York Bar Association. In 1937, she was appointed Assistant Corporation Counsel of the City of New York, again, the first of her kind to hold such a job. A few years later, she was sworn in as a judge of the Domestic Relations (now known as Family) Court. In her time as judge, she broke down racial barriers in Family Court. One of the changes she made was requiring child care agencies that took federal funds to accept children of all races and ethnicities. Jane Bolin was forced to retire at age 70 in 1978.
Marie Van Brittan Brown
A nurse in Queens, New York, Brown was beginning to notice a rise in crime in her neighborhood. Concerns over the time it took police to show up to calls made her take matters into her own hands. In 1969, she and her husband Albert Brown, an electronics technician, patented their closed circuit home security system. It had a camera, four peep holes, and a two way microphone. And if someone showed up at the door and the Browns felt unsafe, they could press an alarm button that went straight to a security company nearby. We still use similar systems in offices and homes.
Shirley Chisholm
Before Kamala Harris, there was another Black woman who ran for president. And her name is Shirley Chisholm. You may have heard of her, but even if you have, it's important to recognize her accomplishments. Before she was the first woman to run for the Democratic party's nomination, she was the first Black woman elected to Congress. Chisholm served in New York's 12 congressional district from 1969 until 1983. In 1972, she took on four white men to try and win the Dem nomination. Her slogan, "unbought and unbothered" was also the name of her 1970 autobiography. Harris was definitely influenced by Chisholm, adapting her logo to look like Chisholm's.
Henrietta Lacks
There's so much about modern medicine that we wouldn't know without Henrietta Lacks. An unintentional trailblazer, Lacks is the Black woman who helped develop the polio vaccine. She was treated for cervical cancer at The Johns Hopkins Hospital, and a medical researcher took samples of her cells without her knowledge and consent. If you've ever heard of HeLa cells, this is the woman they were taken from. Her cells were useful because they'd regenerate every 20-24 hours. According to Johns Hopkins, "They have been used to test the effects of radiation and poisons, to study the human genome, to learn more about how viruses work, and played a crucial role in the development of the polio vaccine."
Lisa Gelobter
We all love gifs, no matter how you pronounce it. Betcha didn't know that the animation technology they used to make them was created by a Black woman. Lisa Gelobter has worked in tech for a long time, and being an integral part of gif creation isn't the only thing she's done. She also was involved in the advent of internet technology like Shockwave, and was a senior part of the team who helped create Hulu. Gelobter also served as Chief Digital Officer for the Department of Education.