Black Women Are Starting Successful Businesses Faster Than Anyone Else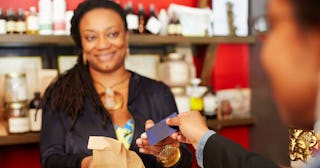 Granger Wootz/Getty
As a woman and mother, watching the news coverage of our current election bums me the fuck out. We've got two strong female presidential candidates fighting on the campaign trail, yet the media has recently been asking the question no one should have to answer. Some journalists are actively spending their time wondering whether a woman can overturn the national status quo and win the presidency.
Do I really need to dignify these questions with a response? And more so, why are we still needing to prove that we have what it takes to lead?
I think it's high time that we start talking about all the boss ass females out there who are shattering records, outperforming their male counterparts, and getting a ton of shit done. And we need to start making substantial room in this conversation for women of color, because they are getting the most shit done.
Just over the past year alone, female entrepreneurs launched an average of 1,817 new businesses per day in our country. That boils down to a whopping 663,205 new companies per year. According to the annual State of Women-Owned Businesses Report, women of color make up 89% of the female startup founders, and this number has grown significantly over the past five years. Female-led businesses now represent 42% of the nearly 13 million companies that are being launched in the U.S., and this is in large part due to the black women who are kicking some major entrepreneurial ass.
We have educational and economic progress to thank for this inspiring burst of growth. But to be honest, females of every background have been steadily rising in the leadership sector for a while now. "Women have been taking control, frankly, for centuries. But now we're talking about it," says Kathy McShane of the U.S. Small Business Administration's Office of Women's Business Ownership in an interview for Inc. Magazine.
Not only are we finally beginning to talk about it, but we're also starting to speak up about why the journey to the top has been so fucking hard, especially for women of color. The truth is that men still receive most of the money needed to start a new business. Last year, women were awarded a measly 2.8% of all venture capital funding that goes to U.S. based business founders. While this sucks big time, the tide is thankfully changing, and female-focused funds are being created to help encourage women of color to become key players in the business field.
This is so damn important because one of the all-time biggest hurdles black female business owners face in launching a company is lack of tangible capital to do it. And women of color struggle harder to be granted access to this necessary financial support.
"There's this notion that we don't exist," says Esosa Ighodaro, founder of the social media shopping app CoSign in her interview with Inc. magazine. "Entrepreneurship is very lonely, and even lonelier in minority communities."
Ighodaro was so damn tired of the lack of diverse representation in business that she created Black Women Talk Tech, a collective that holds national events to help identify, support, and encourage black women to successfully launch their own businesses. Her idea was born out of adversity, as she found that many other female-led business groups only catered to white women. "Sometimes, I'm invited because I'm the black card," Ighodaro tells Inc. Magazine. "It just becomes a talking exercise."
Added to these hardships is the harsh reality that most women of color are more likely to have a side hustle in order to afford the time, energy, and capital required to launch a new company. "Over the last five years, the number of women with side hustles has increased to 39%, compared to a 21% average rate of entrepreneurship. Among minority women, it's even higher: 65% compared to 32%, respectively," explains Lydia Dishman in an article for Fast Company.
So why are women of color being kept out of the financial ring when it comes to creating a thriving business? According to Natalie Madeira Cofield, the founder of Walker's Legacy, a national network for women of color in business, it boils down to lack of relatability. "People invest in people they feel connected to, and the majority of those in power don't necessarily get a Black woman," Cofield explains to Entrepreneur Magazine.
The other issue at play for women of color is a tremendous amount of racial bias that still exists for female startup founders. A study conducted by the Ewing Marion Kauffman Foundation found that first-time black business owners receive almost three times less overall capital than white-owned businesses and are also three times less likely be approved for loan requests, regardless of their credit score or net worth.
And the buck doesn't stop there. A staggering 52% of female business founders also worked at a corporation prior to their solo venture, with many of them quitting their previous job because they were dissatisfied with how the company was run. Women of color are also most likely to experience workplace harassment of any group, are often held to a much higher standard than white men in the same positions, and are seen as less qualified than they actually are. What's worse is that black women often receive less support from their managers, are promoted less frequently than white coworkers, and aren't encouraged as much as others to socialize outside of the workplace.
Yet, despite all of these tremendously unfair obstacles, women of color are shattering parts of the glass ceiling that have remained unbroken until now.
Whether it's the racist dude in the White House currently threatening the rights of so many or the white male boss who diminishes the right to exist equally in the workplace, it's pretty fucking clear that women have had enough. Females of every background have certainly faced plenty of challenges in getting ahead, but women of color have had to face countless more. Despite receiving significantly less support and acceptance, they have contributed an overwhelming amount to our country's livelihood. And they are long overdue for the acknowledgment and support they damn well deserve.
This article was originally published on