Blake Lively Gets Sweet Birthday Revenge On Ryan Reynolds In One Brutal Tweet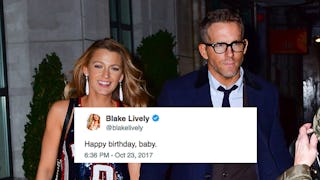 Image via James Devaney/GC Images
Blake Lively wins this Twitter battle with her husband for sure
Ryan Reynolds isn't just known for playing a hilarious superhero and being married to Blake Lively — he also has a bit of Twitter fame. The fact is, Reynolds is funny — and he knows how to wield those 140 characters.
This past August he unleashed his signature hilarity on his wife — in the form of some "birthday wishes" on Twitter:
"Happy Birthday to my amazing wife," he wrote, with Lively cropped almost entirely out of the picture. It was retweeted over 300,000 times, because let's face it — Reynolds knows how to make a joke.
But Lively waited patiently to get him back, it seems. Yesterday, on her husband's 41st birthday, she sent him a little message of her own:
"Happy birthday, baby," she wrote. This time, Reynolds is almost entirely cropped out of the frame, and the lens rests on Ryan Gosling's gorgeous face.
Ouch.
That's what you call a win. Sorry Ryan — your wife won this one, hands down.
So not only are they the most adorable freaking couple around, they also have fun with each other? We'd hate them if we didn't love them so much.
Reynolds started his birthday with a little Twitter joke of his own:
Little did he know that his wife was waiting patiently, ready to steal his fire. It's the little things in marriage, folks.