Ryan Reynolds Trolls Blake Lively Again And Gives Up Some Hilarious Info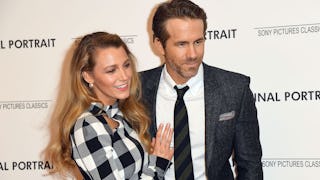 Image via Getty Images/ANGELA WEISS/AFP
Though it's unclear why, Reynolds admits his wife drove him to the hospital in labor
Ryan Reynolds was up to his famous Twittering over the holiday weekend when he casually mentioned his wife, Blake Lively, actually drove him to the hospital while she was in labor.
It all started when Lively dropped a trailer for her upcoming thriller, A Simple Favor. In the film, Lively plays a woman named Emily Nelson who disappears into thin air while her best friend (played by Anna Kendrick) tries to solve the mystery behind it. Lively has been promoting the film on social media by tweeting and Instagramming about her character.
Apparently, it's all too much for Reynolds who really, really wants to fast forward to the end.
"You can tell me. We're married. You once drove me to the hospital when you were giving birth. So… what the fuck happened to Emily?" Reynolds tweeted, which would be totally funny except — helloooooo — did he just say she drove him?
The dad of two — daughters James, three, and Inez, 19 months — didn't elaborate on the subject, but it wouldn't be surprising, given Lively admitted to Allure that she pumps breastmilk while driving, because motherhood. The famous pair usually stay fairly private when it comes to their kids, so it makes his admission even more incredible.
Lively jokingly replied to his tweet, saying "Oh darling, of all the secrets I'm keeping from you, this should be the LEAST of your concerns… trust me."
Being a mom means you have to be a badass. Whether it's surviving on zero sleep, being fully present for another human being 24 hours a day, or even driving yourself to the hospital to give birth, moms are freaking amazing. If shit needs to get done, we're gonna get it done, even if we need to do so while trying to push another person out of us in the process.
This isn't the first time the couple have mercilessly teased each other on social media. Although he and Lively keep most details of their lives out of the spotlight, Reynolds has no problem hilariously discussing the ins and outs of parenthood. He's also a pro at trolling his wife, which is both hysterical and endearing.
All joking aside, Reynolds is also quick to point out how amazing his wife is. During an appearance on Late Night with Seth Meyers after daughter James was born, his advice to the soon-to-be dad was, "Just do the dirty work, man. You gotta do the diapers, you gotta do the middle of the night thing. I mean, your wife — a human being will exit your wife, so she's done enough. Just change the diapers and do all that stuff."
Truer words have never been spoken.