Blake Lively Calls Out Paparazzi For 'Deceitful' Photos Of Kids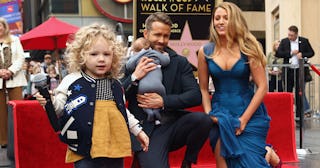 Tommaso Boddi/WireImage
She described the incident as frightening and asked the publication to delete the photos
Blake Lively is done with the paparazzi continuing to harass her and her kids when she's out in public. She put the Daily Mail on blast over what she calls "frightening" moments with their photographers during a recent outing with daughters James, 6, Inez, 4, and Betty, 21 months.
The former Gossip Girl and wife of Ryan Reynolds wrote a passionate response to the tabloid in a now-deleted post. The photos show her pushing the kids in the stroller and another of her smiling, waving to the camera — a move she calls "deceitful."
Her words for the outlet, captured by Comments by Celebs, start, "You edit together these images to look like I'm happily waving, but that is deceitful."
Lively continued, "My children were being stalked by a men all day. Jumping out. And then hiding. A stranger on the street got into words with them because it was so upsetting for her to see. The real story: My children were being stalked by a man all day, jumping out, and then hiding. A stranger on the street got into words with them because it was so upsetting for her to see. When I tried to calmly approach the photographer you hired to take these pictures in order to speak to him, he would run away — and jump out again at the next block."
The mom-of-three also told the outlet she tried to "calmly approach" the photographer, but he would just run away, only to appear again a few moments later.
"The photographers who would speak to me, I was able to agree to smile and wave and let them take my picture away from my children, if they would leave my children alone — because it was frightening," she said, referring to the second picture of her smiling.
Lively also questioned the credentials of those who come in such close contact with her small kids.
"Do you do background checks on the photographs you pay to stalk children?" she asked. "Where is your morality here? I would like to know. Or do you simply not care about the safety of children?"
Lively isn't the only celebrity to question the paparazzi's tactics. Kristen Bell is a part of the "No Kids Policy" to leave kids out of public photos that are published online. And just weeks ago, Gigi Hadid also penned an open letter to paparazzi, asking them not to publish photos of her and Zayn Malik's 9-month-old daughter, Khai.
"For a child, I can imagine that close or dramatic paparazzi frenzies must be overwhelming and disorienting…it still is as an adult that understands and deals with it often," Hadid wrote in part.
"At minimum," Lively concluded, "listen to your followers. They too understand this is dark and upsetting that you pay people to stalk children. Please stop paying grown ass men to hide and hunt children. There are plenty of pictures you could've published without the kids. Please delete. C'mon. Get with the times."
This article was originally published on