Blake Lively Hilariously Trolls Ryan Reynolds With Gross Birthday Pic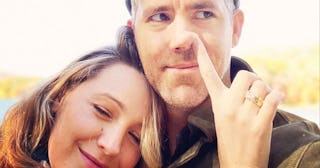 Blake Lively/Instagram
Blake Lively took to Instagram with a birthday post for Ryan Reynolds that's extremely on-brand
There's plenty of famous folks out there who maintain a pristine and visually stunning social media presence. After all, it's kind of part of their brand to be untouchably perfect and aspirational at all times. Actress Blake Lively definitely has some posts with that vibe, but anything involving husband Ryan Reynolds usually veers toward the hilarious instead of unattainable. Such is the case with her recent trolling of the actor on Instagram in honor of his birthday.
"I picked a good one. Happy birthday @vancityreynolds," she wrote in the caption next to a photo of the couple together with Lively playfully sticking her fingertip inside her beloved's nose. Gross, but somehow, adorable.
You might recall that this past summer, Reynolds wished Lively a happy birthday on Instagram too — by posting a series of not-so-flattering photos (that still looked amazing, she literally can't take a bad picture) along with a happy birthday caption.
It's a tradition the couple keeps up yearly and it looks as though they're just going to keep upping the ante as they age — much to our delight.
There's something pretty great about a pair of the most insanely gorgeous human beings on the planet not at all taking themselves too seriously. Neither of them are much for gushing over each other on their respective social accounts with Reynolds mostly focusing his online presence on being one of the funniest Twitter accounts out there. But when it comes to birthdays, they're all jokes.
Like in 2017 when Reynolds shared a birthday tweet in honor of his wife — in which she only barely appears.
But don't feel too bad for her — she got him back big time by wishing him a happy birthday and sharing a photo of that other Ryan instead of featuring her husband.
Of course, Reynolds feels no need to contain his trolling of Lively to just her birthday. Sometimes he randomly pokes fun at her like when he shared a shot of her in costume for a movie where she wasn't exactly looking her best self.
The couple that laughs together stays together and the couple who can take a joke in the form of a playful social media jab is probably in it for life.