Blake Lively's Latest Instagram Post Gets Expertly Trolled By Ryan Reynolds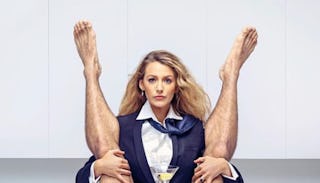 Image via Instagram/Blake Lively
Ryan Reynolds couldn't help chiming in on Blake Lively's racy photo with a naked boxer
In a themed photoshoot to promote her new movie, A Simple Favor, Blake Lively can be seen posing with a naked man — and from her power stance to her power suit, it's everything. Except maybe not for her husband, Ryan Reynolds.
In the photo, Lively is joined by a beefcake French model known as "Thomas the Boxer" on Instagram who is just naked and at her will. Lively is dressed and styled as her martini-loving character from the movie, Emily.
She captioned the photo "My turn," and honestly, it's just awesome to see women in positions of power like this — even if it is tongue-in-cheek. And, because Lively and Reynolds are hilarious together and experts at trolling each other, he couldn't resist getting a comment in.
LOL. "He seems nice."
The two of them have a history of joking around online. Like the time he savagely mocked his wife when a photo of her in character for a film — looking, uh, less Lively, more Sloppy — surfaced.
NO FILTER.
Though nothing can compare to her birthday message to her husband last year.
This time, Reynolds is almost entirely cropped out of the frame, and the lens rests on Ryan Gosling's gorgeous face. Sheer perfection. How I wish anything about my life warranted me posting a photo of my close, personal friend Ryan Gosling.
Though these two are seemingly perfect in most aspects — looks, success, and as matches for one another, at least humor-wise — they're not immune to the inevitable "breakup rumors" that surround Hollywood couples all the time. Earlier this year when a story about the two of them "struggling" surfaced, Reynolds had the perfect response.
Basically what all of this amounts to is one solitary, important, indisputable fact: the couple who trolls together, stays together.