Blake Lively And Ryan Reynolds Reveal Their New Baby!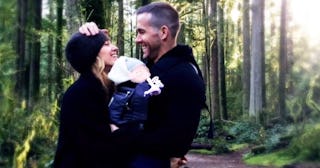 Ryan Reynolds/Twitter
Congratulations to Blake Lively and Ryan Reynolds on the arrival of their third little girl
Blake Lively and Ryan Reynolds are notoriously private about their personal lives. Despite being two extremely famous people, since they got married and started having kids, they've withdrawn significantly from the spotlight, saying they want to give their kids as normal a life as possible given their parents' A-list status. And so, while we knew that Lively and Reynolds were expecting their third baby because having Lively attended the Detective Pikachu premiere in May 2019 with a very obvious (and surprise) baby bump, we didn't know a lot of details, until today.
Thanks to a tweet from Reynolds, though, we finally have confirmation that the couple's third baby has arrived — and it seems like he quietely revealed the baby's sex at the same time.
Of all things, it was a political tweet. Reynolds was encouraging people to vote for politicians who will help positively shape climate policy in the future, and alongside that very important message, he posted a photo of himself and Lively snuggled up to a little bundle of joy in the forests of Vancouver, B.C.
This is the baby's first public reveal as Reynolds blurred out her face and covered it up with a smiley face. We can't expect this extremely private couple to give away too much, can we?
"I love B.C.," he wrote in the tweet. "I want my daughters to experience the same natural playground I grew up in. On Oct. 21, the candidate you vote for will SHAPE CLIMATE POLICY. I'm proud of the climate progress made the last 4 years. Click http://Elections.ca for voting info. #Capilano"
If you weren't paying attention, you might have just missed it. Reynolds didn't say he wants his daughters and son to experience the same natural playground he knows and loves. He said his daughters, and that seems like a strong hint that the new baby is another girl, joining the couple's two other daughters, four-year-old James and two-year-old Inez.
In the photo, Reynolds and Lively look absolutely happy and in love, gazing into each other's eyes while they snuggle their newborn between them. Although they keep their lives so private, these little glimpses are that much sweeter because they don't happen all that often.
In the meantime, though, we can get our Reynolds and Lively fix by following Reynolds on Instagram, where he hilariously chronicles what it's like to be a dad. It's surprisingly relatable, considering how mega famous he is. Now if only he'd tweet some photos of the adorable kiddos once in a while, we'd be set.
This article was originally published on