Blake Shelton Named 'Sexiest Man Alive' And Twitter Won't Stop Dragging Him
by Sarah Hosseini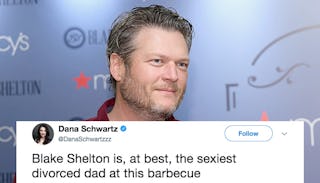 Image via Ben Gabbe/Getty Images
People magazine crowns Blake Shelton king of heartthrob and Twitter has so many questions
This week People magazine dubbed Blake Shelton, country singer and star of NBC's "The Voice," as the "Sexiest Man Alive." Naturally, Twitter had feelings about this. The result was a collective virtual head-scratching that is pure comedic gold.
Many people were shocked at the nomination, including Shelton himself who humbly accepted and even joked that he couldn't "wait to shove this up his former co-star, Adam Levine's ass." He also told the publication, ""Y'all must be running out of people. Like, wow, we're down to somebody who is somewhat symmetrical."
The Twitter-verse had a friggin' ball with this news and did what Twitter does best, turned a trending topic into a thread of hilarity.
Many were legit worried that maybe many hot men died.
Many asked where Idris Elba is? SAME.
Others likened it to ordering shit online that never arrives how it looks in the picture.
Whether you think Blake Shelton is the hella hot, or hella NOT, we all know sexy is about so much more. More than could ever be captured in a magazine photo. Having a sense of humor about it all might be the sexiest characteristic Shelton has — which is hands down, universally hot.
This article was originally published on