Body Positive Blogger Explains Why She Embraces Her 'Visible Belly Outline'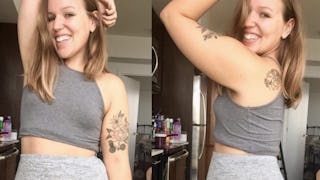 Image via Instagram
She wears what she wants, even if her belly shows
Summer's here and for many women, that means confronting body hang-ups. Warm weather clothing tends to be tighter and more revealing, leading some of us to eschew the lighter clothing appropriate for this time of year because we don't want to highlight any perceived flaws.
One woman isn't having it and took to Instagram to show off her "visible belly outline," and tells us why we should too.
Self Love Club is an entire Instagram account dedicated to exactly that. The brilliant woman behind it shares all kinds of body positive wisdom including a recent post about loving her belly, even if it doesn't look exactly the way society says it should.
https://www.instagram.com/p/BUe00_KFt6O/
She writes, "Cheers to a summer of rocking clothing that give you a visible tummy outline. Cheers to not giving a sh*t what people think about your body or the way you dress."
Amen. After 35 years as a woman, I'm so tired of the voice in my head reminding me I have a little belly and that maybe I don't belong wearing that bikini. I'm tired of feeling like I have to throw on a constricting pair of Spanx before daring to wear a form-fitting dress to a formal event. Because obviously my belly not being flat as a board will mortally offend someone, right?
Honestly, I'm just tired.
This writer doesn't give a flying fuck about any of that, and I need to adopt her style. "Cheers to embracing what we've been told not to wear because it doesn't "flatter our body type". Cheers to living free of judgement, reservations, and inhibitions. Life is short, enjoy it," she says.
Cheers indeed. Who decides what's flattering on who, anyway? Why do we let anyone else determine what makes us feel good about our bodies? If we put on an outfit and feel amazing in it, why does anyone else even get a vote? Frankly, it's bullshit.
There are plenty of different body types out there and while they're all beautiful, not all of them feature a flat stomach. And that's totally OK. Despite that, tons of women go to great effort to hide their bellies employing the aforementioned Spanx or opting for clothing that doesn't hug the body at all.
And of course, that's their prerogative. But they should be able to wear whatever the hell they want regardless of how snug-fitting it is, what it reveals and what others might think.
The post ends on a perfect mic drop. "Don't let others affect your happiness and self worth. Bellies are cute and worth showing off."
Hell. Yes.