The New 'Blue's Clues' Host Is Officially Hot And Twitter Has No Chill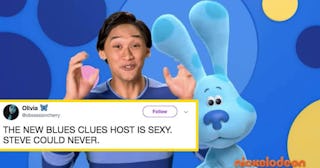 YouTube/Twitter
Joshua Dela Cruz already has some fans on social media
Blue's Clues just got a little more interesting. At least, according to the Twitterverse it did. That's because many people seem to have taken notice of the show's new host, Joshua Dela Cruz.
Basically, they think he's pretty hot. And, well. Just have a look for yourselves.
Nickelodeon's reboot is coming in November but people are already, uh, a little excited. While the show was never that big of a hit with parents in the past, that just might be changing now. It seems like people have found a new reason to tune into the kid's show.
And it just might be a good one.
Well, well, well. Can't say that we blame them. I mean…
The network announced Dela Cruz's casting on the show Blue's Clues & You last fall and released a sneak peek back in May. But now, it seems like the fans are rolling in.
We get it. Yeah, we definitely get it.
There is no doubt that he's a good looking guy. But he's more than that, too! What's really cool is that the Filipino-American actor sees himself as a role model, especially for Asians in entertainment, and it's one more reason why he's excited about his new role on the popular show.
Last year, he told Huffpost about how important he felt it was for young kids to see actors who resemble themselves. "I didn't see anyone who looked like me on American film and television," he said. "More specifically, there weren't any Asian actors that played Americans. He went on to say, "I had always felt that if you wanted to be on television, you had to know how to fight or have an accent. It was incredibly alienating."
It's awesome to see that the reboot is going to have a host who a lot of kids will undoubtedly look up to. And parents will just, ya know, look at. Either way, there just may be an even bigger audience for the show in just a few months.
November is looking up for alllll the wrong reasons, folks.
This article was originally published on