Here's The First Peek At The New 'Blue's Clues' Reboot And It Looks Adorable AF
by Cassandra Stone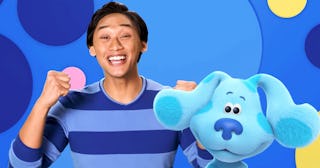 Nickelodeon/Youtube
This sneak peek of 'Blues Clues and You' will give you all the feels
If you were a child in the '90s, or at least lived with or babysat children in the '90s and early aughts, chances are you are intimately familiar with Blue's Clues. The popular preschool show was to small children what Full House was to big kids back then — and it's BACK.
Nickelodeon has released the first trailer for the reboot classic kid's show, Blue's Clues and You, and it looks like it's going to be beyond adorable and an instant hit for a new crop of kids.
OMG. Blue, the house, the thinking chair, the notebook, and many familiar friendly characters are all back to bring joy and fun into our living rooms. Broadway actor Joshua Dela Cruz will take the new lead role of Josh, Blue's main buddy.
The original Blue's Clues series launched in September 1996 to critical praise from educators, parents, and preschoolers and ran for six seasons.
The beloved OG star of yesteryear, Steve Burns, actually helped choose Dela Cruz as the new face of Blue's Clues and You. Last fall, Burns said he was looking forward to seeing someone new in his iconic role. "I had the great honor of being a part of the search for the new host, and I give Josh two thumbs up! He can definitely fill my shoes, and the rugby shirt," he said in an official press release.
Fans seem to be delighted that the show is making a comeback. Growing up, this show was always on in our house — my sister is several years younger than me, and she was obsessed. So even those of us who are a little older than the target audience was all those years ago likely have special feelings about the show's return.
https://twitter.com/jetpack/status/1133233138367369216
https://twitter.com/jetpack/status/1133602537439997953
It also looks like Steve Burns has been working with the show again, just behind-the-scenes this time.
https://twitter.com/jetpack/status/1133602537439997953
Burns himself even posted a sweet, adorable message in support of the show's return (and it's new host) on his Instagram account.
"I met him and turns out he is wonderful 3000 and I was all hey if you need any help with clues I can do that still and he's all nah Im all good I got this but you left a sweater in the dryer and he is really the best and I cant wait until you meet him. Also Blue is 3D now and I'm shooketh."
"From the moment we decided to make a new version of the series, we knew that so much of the energy and magic of the show comes from the host's ability to bring preschoolers into the colorfully animated world of Blue and her friends," says Cathy Galeota, Senior Vice President, Preschool Content, Nickelodeon Group. "Josh's wonderful theater background and his natural charisma checked all the boxes for us, and of course Steve's stamp of approval only solidified our decision."
CANNOT. WAIT. No premiere date has been announced yet, but it looks like it's going to be awesome.
This article was originally published on