The First Episode Of The 'Blues Clues' Reboot Has Steve And Joe As Guest Stars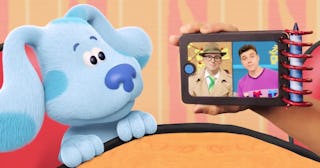 Nick Jr.
The new Blues Clues has a fun throwback in the first episode for all of the show's original fans
For any '90s kid that grew up watching Blues Clues, news that the show is getting a reboot tugged some serious heartstrings. But what could make millennials tear up even more than knowing one of the iconic shows of their childhood is coming back to shape a whole new generation of kids?
You better be sitting down (in your thinking chair) for this news.
The two hosts of the original series, Joe and Steve, are special guests on the first episode of the reboot. And yes, there is a clip of the episode that you can watch right now.
In the clip, from the first episode of the new show Blues Clues and You, new host Josh is trying to figure out what Blue wants for breakfast. He can't understand his doggy pal, so he uses his handy-dandy notebook (which has been updated for a 2019 audience by becoming a notebook-smartphone hybrid device. Where can we get one of those?). He calls up his cousins, who are none other than Joe and Steve.
It's great to see those iconic faces back on screen, especially on the show we remember them from. But what's even better is that Josh's call gives us a glimpse into what Joe and Steve are doing with their lives post-Blues Clues, and it is a truly wonderful Easter egg. It turns out that Joe now works at a present store, while Steve runs his own detective agency. You go, Steve. You chased your dreams and inspired a whole generation of kids to do so, too.
On the call, Joe and Steve ask to talk to Blue, and then turn the phone back to Josh to tell him they know how he's going to figure out what Blue wants for breakfast: A game of Blues Clues! And of course, Steve turns to face the screen and break the fourth wall like he does, asking the audience if they can help out, too.
All of us who made up the show's original audience have been getting a little misty-eyed this morning upon seeing Steve and Joe back on the show. We're also loving the way the show is staying true to its roots, but with small, modern updates.
It truly is the perfect tribute for our millennial hearts.
Blues Clues and You premieres on Nickelodeon Monday, Nov. 11, and Steve and Joe won't be the only familiar faces. Of course Blue is back, but so are Pail, Mr. Salt, Mrs. Pepper, Cinnamon, Paprika, Felt Friends, Sidetable Drawer, Mailbox, and, of course, the Thinking Chair. We'll also meet some new faces, like Mr. Salt and Mrs. Pepper's new twins, Sage and Ginger.
Yes, the show is meant for a new generation of kids. But it might just have found viewers in an older generation, too.