Viral TikTok Theory Suggests Bluey Might Be A Rainbow Baby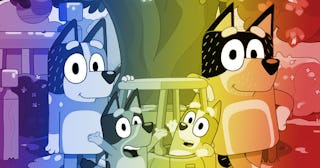 Scary Mommy and BBC Studios
One parent's theory about Bluey being a rainbow baby is going viral on TikTok, with fellow parents praising the series for how it approaches tough topics for a young audience
If you've got young kids at home, you're more than likely familiar with the hit Australian series Bluey, which follows the titular Blue Heeler pup and her family, including her mom Chilli, her dad Bandit, and little sister Bingo. Aside from the adorable theme song you don't even mind hearing dozens of times a day and the short episodes (around seven minutes each), the Disney series is winning international praise for its ability to connect tough topics, such as bullying, divorce, and even death, with young viewers.
One fan theory is going viral on TikTok, and it's pointing to some pretty solid evidence that Bluey is actually a rainbow baby, a term commonly used for a baby that is born after someone has experienced a miscarriage, stillbirth, or infant loss. TikTok user @world.shaker is a dad to a daughter and a self-professed "Bluey stan," frequently sharing fun secrets and tidbits about the charming TV series. But his theory about the famous pup being a rainbow baby is resonating with fellow parents everywhere for how gently and powerfully one particular scene handles pregnancy loss.
Vaughn shared a snippet from a recent episode from Season 2 of the series called "The Show," in which Bluey and her sister reenact scenes from their parents' lives on Mother's Day. In a scene where her sister pretends to be their pregnant mom, Bingo sports a balloon beneath her shirt, which then pops. The pups' dad immediately goes to comfort Chilli, reaching out for her hand, which seems to indicate that the family had experienced a pregnancy loss prior to welcoming Bluey.
"It's important to know that Bluey never shies away from difficult topics," says Vaughn in the now-viral TikTok clip. "Especially through the lens of a child." Though it hasn't been confirmed, Vaughn notes, "Bandit's first reaction [when the balloon pops] is not to comfort their children, but to comfort his wife."
Naturally, commenters flooded Vaughn's post to share their own stories and how much it means to them to see the series tackle these topics with grace, understanding, and empathy for both kids and adults, with one sharing another subtle clue that the puppy family had experienced a prior loss. In another episode from the same season called "Sleepytime," Bingo has a dream about being in outer space, and her mom, who appears as the sun in the dream, can be seen with three planets orbiting her. The commenter believed it might be a nod to her three babies.
Though Vaughn himself told Yahoo Life his family has not experienced a miscarriage or child loss, he says he's "learned a tremendous amount from parents who have. There's a vibrant, supportive community of parents on TikTok who have shared their experiences with child loss and miscarriage… that's why I appreciated [this episode] so much."
"One area where Bluey excels is making parents feel seen when they're struggling," he added, "and I love the thought that the show is making an effort to include parents who didn't get to meet their baby, or spend the time with them that they deserved to."