A School Installed A Book Vending Machine And Kids Are Already Obsessed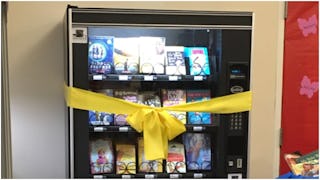 Image via Dee Romito/Twitter
A school in New York had the brilliant idea of starting a book vending machine
There's a lot of really awful, discouraging news right now. Here's a happy little pick-me-up. A school in Buffalo, New York installed a vending machine filled with books and the kids are loving it. More things like this please.
In late November, Arthur O. Eve School of Distinction #61 held a ribbon cutting ceremony for their brand new book vending machine. Students were given special golden coins to insert into the slot and pick out their reading material of choice. Video captured from the unveiling showed one girl putting her coin into the machine, tapping A6, and pulling out a copy of "The Best School Year Ever." She held it proudly over her head while photographers snapped pictures.
School 61 Principal Parette Walker told WBFO News that the book vending machine is open to all students, who range from Pre-K to 4th grade.
"We're not basing it on behavior," she said. "We're not basing it on attendance, so that everyone will have a chance to receive a book. There will be a monthly rotation of all students."
Kids are welcome to bring the books home with them and start creating their own library. Buffalo School Board member Sharon Belton-Cottman hopes that this vending machine will encourage parents to "focus on reading."
"One of the biggest issues we have in this district is literacy," she explained. "If our children can read, they can survive."
The vending machine was purchased for $2,000 by The Community Action Organization. The group also paid $1,000 to fill it with books, which will continue to be restocked thanks to the Teacher's Desk, a non-profit school supply store. People on Twitter are already applauding this brilliant idea and discussing replicating it at their own schools. Authors chimed in, offering to donate their own work to the machine.
Meanwhile, the vending machine's most valuable critics – the kids of Arthur O. Eve School of Distinction – only had positive feedback to share. "Very cool," Cameron, a third-grader, told The Buffalo News. "Now, I get to get books for free. I'm very excited."