Netflix's 'Bookmarks' Is A Great Show To Share The Black Experience With Your Kids
by Sa'iyda Shabazz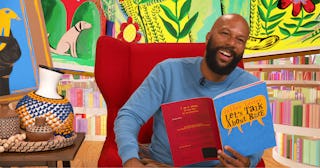 Netflix
Bookmarks: Celebrating Black Voices is a new show on Netflix. Hosted by author and activist Marley Dias, it features Black artists reading books by Black authors to further highlight the Black experience. Per the show's description, "the collection of books and conversations center around themes of identity, respect, justice, and action — providing families a toolset to start meaningful conversations with kids about difficult topics through short-form book-based content."
Some of the Black artists reading include Lupita Nyong'o, Common, Misty Copeland and Karamo Brown. At the end of each episode, you can hear a sneak peek of Common's new song, "Don't Forget." The full song will be released at a later date.
While Bookmarks focuses on Black voices and storytellers, it is a show for everyone. If you're a non-Black person committed to fighting against anti-blackness and white supremacy, sharing Black stories with your children is a key part of that. These stories enlighten children to the Black experience, creating empathy and understanding for people who are different than them.
As previously stated, the show is hosted by Marley Dias, who is also an executive producer on the show. Marley Dias is a 15-year-old author and activist. Dias founded the #1000BlackGirlsBooks, which is a campaign founded in 2015. Her goal was to collect 1,000 books featuring Black female protagonists. Thanks to the power of social media, the campaign went international and she collected over 12,000 books by 2018. Thanks to her activism, she was recognized by TIME as one of their most influential teens in 2018. Additionally, she was featured on Forbes' 30 under 30 list in 2018, and was the youngest person ever featured.
Scary Mommy was able to chat with Marley via email about activism and why books are important to her.
"I am an accidental activist," she explains. "I had not imagined that my desire to address a problem I saw in my own community would lead to this international campaign. But in truth, I have been learning about advocacy my whole life. My mom runs a girls' leadership program that teaches girls to use their skills and talents to make a difference in the world. I have watched her advocate for girls and for people my whole life and so I feel like advocacy has always been a part of who I am."
It's clear that Marley understands the importance of reading, especially for children. In the last seven years or so, we're seeing conversations about representation, especially in children's literature. Children of color are deeply underrepresented in children's books. And when kids aren't seeing themselves represented, it's harder for them to see their value.
"Reading gave me a mirror to see myself and a window into what is possible. Reading gave me words to express how I feel, which has helped me develop my confidence. Reading helped me imagine and now actually travel across the world," she said, adding that reading has a positive impact on her life.
When she was younger, some of her favorite books were Beacon Street Girls by Annie Bryant, Dork Diaries by Rachel Renée Russell and Brown Girl Dreaming by Jacqueline Woodson. Jacqueline Woodson, a prominent Black author in children's literature. Woodson is also one of the featured authors on Bookmarks, and Marley admitted that she's a huge fan of Woodson's work. Saying that she loves all the books featured on the show, she admits, "the show does include my favorite author, Jacqueline Woodson so The Day You Begin is one of my favorites."
Another one of the books on Bookmarks is I Love My Hair by Natasha Anastasia Tarpley. Marley has a special connection to the book. "I've had that book since I was a little kid and my mom actually grew up with the author."
When it comes to the books featured on Bookmarks, Marley is proud of the selection. "All of the books have great messages that share the experiences of being Black globally," she says.
In one episode, actress Lupita Nyong'o reads Sulwe, the children's book she wrote. The story empowers young Black children to love their skin. Queer Eye star Karamo Brown reads his children's book, I Am Perfectly Designed, which encourages kids to embrace their differences and the differences of others. Rapper and activist Common reads Let's Talk About Race, and actor Kendrick Sampson reads Anti-Racist Baby, which gives kids of any race the steps to live in an antiracist world.
In the last episode of Bookmarks, Marley herself reads We March by Shane Evans. It is a picture book that focuses on a family getting ready for a protest. It's likely the March on Washington as you can see illustrations of a man who looks like Martin Luther King Jr. Marley poses the question to the kids watching to think about the purpose and power of protest at the end.
And if your kids see Marley as an inspiration and want to follow in her footsteps as a kid activist, she has some tips. "I suggest that kids start small and use their passions," she advises. "Advocacy can be hard and you must choose something that you have strong feelings about because your passion will fuel you when you get tired. I also suggest that everyone starts small. By starting small you can get into the practice of committing to be a changemaker and learn how to use tools and resources you have in your community."
If you're looking for additional resources, Netflix has partnered with American Library Association's Black Caucus and the Association for Library Service to Children to launch a website to support the show. The Bookmarks website has a reading list of the stories featured on the show, along with additional resources for parents and kids. Additional reading lists are broken down by age, making it easier to find age appropriate material. On the resources page, you can find activities to do with your kids after reading a new book. You can also find reading lists from ALSC Library Professionals and a toolkit to support diverse communities.
Bookmarks: Celebrating Black Voices, is now available to stream on Netflix.
This article was originally published on