There's A Boss Baby Series Coming To Netflix, Your Kids Are Gonna Freak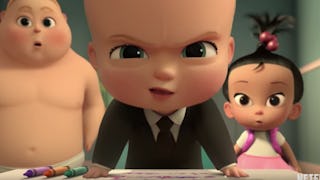 Image via Netflix
The Boss Baby: Back in Business is coming to Netflix in April
Have your kids been playing their The Boss Baby Blu-ray nonstop? Are you ready for a change? Well you're in luck, because our BFFs at Netflix are rolling out a new The Boss Baby series so your obsessed kiddos can get some new material to watch on repeat.
Just like when they saved our sanity with a new Trolls series, it's Netflix to the rescue once again. Coming to your living room April 6th (aka, not soon enough) is a series about the little guy in charge and his helper/older brother Tim. It's called The Boss Baby: Back in Business. Let the adorable trailer, released this week, tell you more.
Netflix says, "With a little help from his brother and accomplice, Tim, Boss Baby tries to balance family life with his job at Baby Corp headquarters." The show is created by Dreamworks Animation and promises to pack all the scheming adult-baby punch of the movie.
Miles Bakshi, who voiced older brother Tim in the movie, is back for the series. Unfortunately, gruff-voiced Alec Baldwin will not be returning to play the wee Boss, but by the sounds of the trailer, voice actor JP Karliak is doing the role justice.
In my house, it won't just be the kids bursting with excitement at this news — my husband and I enjoyed The Boss Baby film possibly more than they did. I found myself teary at some parts and laughing hysterically at others. As long as my kids are home, the TV is their domain. It's always nice when whatever they're watching happens to be something the adults in the house love too.
Is it April 6th yet?
This article was originally published on