Adorable 9-Year-Old Boy Applies For 'Alien-Fighting' NASA Job
by Sarah Hosseini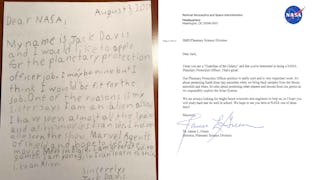 Image via NASA
This kid is going (extraterrestrial) places.
Writing a cover letter for any job is one of the most agonizing tasks for job applicants. Multiply that pressure by a billion light years if you're applying for NASA's new job as Planetary Protector Officer. That's literally the weight of the whole universe on your shoulders. But if you're 9-year-old Jack Davis, no sweat. You nail it.
The fourth-grader and self-proclaimed "Guardian of the Galaxy" may actually have a shot at NASA's new gig … some day. Jack submitted his hand-written cover letter for the space agency's new position, planetary protector officer, and a family friend uploaded it to Reddit. The job requires someone capable of guarding Earth from "biological contamination" from other planets. The boy is clearly up for the task.
He's got enthusiasm and confidence.
"I may be nine but I think I would be fit for the job," he writes.
He has a really solid reference.
"One of the reasons is my sister says I am an alien."
And he has a fair amount of relevant job experience for his age, to be honest. It's impressive.
"I have seen almost all the space and alien movies I can see," he explains of his qualifications for the six-figure salary job.
Additionally, Jack has a plan for his future development with the company.
"I have also seen the show Marvel Agents of Shield and hope to see the movie Men in Black."
He also brings a unique skill set to the job.
"I'm great at video games," he writes. "I am young, so I can learn to think like an Alien."
He signed his cover letter, "Jack Davis, Guardian of the Galaxy, fourth grade."
If this is any indication of how great the next generation is, we're looking forward to it. Another bright young mind, 7-year-old Chloe Bridgewater applied for a job at Google earlier this year. Yes, that Google and they responded, just like NASA.
In fact, NASA was so impressed by Jack's tenacity and enthusiasm for the position that young Jack got a phone call from Planetary Research Director Jonathan Rall. He wanted to congratulate him on his interest in the job.
NASA even formally replied to Jack's letter and gave him extra insights about the job and some tips.
"It's about protecting Earth from tiny microbes when we bring back samples from the Moon, asteroids and Mars. It's also about protecting other planets and moons from our germs as we responsibly explore the Solar System," wrote James L. Green, director of NASA's planetary science division.
NASA didn't flat out reject him, but they really would like to see him finish school first. So basically, there's still a chance.
"We are always looking for bright future scientists and engineers to help us, so I hope you will study hard and do well in school," Green said.
This kid is definitely going places. Maybe not anywhere on this planet, but other planets.
Green ended the letter with words of encouragement.
"We hope to see you here at NASA one of these days."