Boy Asks For 'Cow Having A Calf' Birthday Cake, Hero Mom Comes Through Big-Time
by Meredith Bland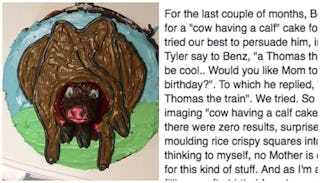 A four-year-old boy wanted a "cow having a calf" on his birthday cake, so his mom went for it
Benz Packard loves farm life; one of his favorite activities is helping out on his Aunt and Uncle's farm, helping milk the cows, collect chicken eggs, and apparently, witnessing the miracle of birth.
When Benz's mom, Jamie, asked him what he wanted for his fourth birthday cake, she assumed it would be farm-related. She probably, however, wasn't expecting anything so…earthy. In a Facebook post that has now gone viral, Packard said that for months Benz told her that he wanted "a cow having a calf" for his cake. She and her husband tried to persuade him to choose something that involved fewer vaginas, like Thomas the Train. But Benz wasn't falling for it, saying, "I don't even watch Thomas the Train".
So Jamie Packard, hero mom, made her boy a very birthy birthday cake.
You have to admit that for a child's birthday cake that involves crowning, this is pretty darn good. Packard said she searched for "cow having calf" cakes on Google images, but, "…guess what, there were zero results, surprise, surprise!"
Not anymore, Jamie.
This cake will be the standard bearer for all animal childbirth cakes. You have the correct view from the rear, you have blood, afterbirth, the slightest hint of birth canal, cherry pie filling between the layers for, as Packard put it, "some added drama when it was cut into," and, most importantly, the hooves-first entry of a very surprised calf. Said Packard, "So as I'm molding rice crispy squares into little hooves I'm thinking to myself, no mother is ever really prepared for this kind of stuff. And as I'm applying cherry pie filling as afterbirth, I found myself thinking…Thank goodness it's only family coming to this party!"
The things we do for our kids, huh?
Well, on behalf of everyone, we want to thank Jamie for sharing this picture. And we want to thank Benz for sticking to his vision. As Jamie told Today Parents, "His version of a bedtime story is paging through his treasured 'Canadian Angus 2016 Bull Buyer's Guide,' which he plucked from the waste bin at the post office." This boy has a passion for farming and a couple of good-humored parents who are willing to roll right along with him.
It's a good reminder for us to not take it all too seriously, and that kids' birthday parties are supposed to be about them and not us. So don't be anal about your kids' birthday cakes — instead, maybe be a little vaginal.
This article was originally published on