Boy's Viral Act Of Kindness For Suffering Families Will Make You Weep
by Valerie Williams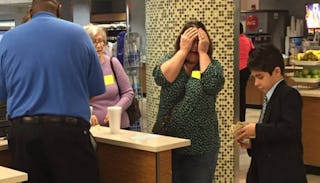 Image via Facebook
Jerry Hatcher, Jr. saves his money all year to buy meals for the parents of sick children on Christmas Eve.
For the third year in a row, a young boy set out the morning of Christmas Eve on the sweetest mission. All year long, he saves his money for this very occasion and it isn't to buy himself a bunch of new Legos. He had his parents take him to a children's hospital where he planned to use his hard-earned wad of cash surprising families of sick children at the cafeteria by paying for their meals.
Are those onions? Someone's definitely chopping onions.
After almost losing his younger brother to illness, Jerry Hatcher, Jr. has a unique understanding of how tough life in a hospital can be for the family members of sick loved ones. That's why he's spent every Christmas Eve for the last three years hiding behind the cafeteria cash register at the Children's Hospital of Atlanta where he pulls out his money and performs a beautiful act of kindness for family members of hospitalized children.
According to the CHOA's Facebook page, Hatcher shows up early on Christmas Eve in a black suit, stack of bills in hand, just waiting for families to come through the check-out so he can surprise them. The hospital shared the little boy's mission in their post, which is to spread cheer at what must be a difficult time of year for families with a sick child. "One thing I'm trying to do is make sure everyone stays happy – it's Christmas!"
The post about Hatcher has been shared nearly 8,000 times and the best part? Several grateful parents took to the comments to sincerely thank him:
My wife went to get us some breakfast early this morning while it was my turn to have a moment of rest. We have had a very long week with our young princess and we have absolutely exhausted ourselves emotionally. Jerry Jr, you young man have came to our family and done an act of kindness that I will never forget. Christmas is far from being a normal, relaxing time with our families this year! Young man you made me realize just how thoughtful and real God always is. Thank Jerry Jr for doing more for than you can actually realize for us!
He made my morning. This has been one of the hardest Christmas seasons I have had, spending it in the hospital with my son, but this little man made my morning. Thank you again, you are an angel. I hope my son has as big as a heart as you do when he is your age!
This young man brought tears to my eyes this morning when he so graciously purchased breakfast for my husband and me. We have been here at CHOA with our 4-month-old for the last few days – and have been very emotional and overwhelmed. The selfless action of this young man this morning brought so much joy to my heart. What a blessing he is!! He is truly making a difference in this community!!!!
Is your heart swelling to ten times its normal size yet? Hatcher is the very definition of empathy and although he experienced his little brother's illness and obviously understands what these families go through more than the average kid, it's still highly unusual for a child to display this level of caring and compassion. He even has a GoFundMe page where he calls his yearly trip to the hospital "Feed the Families." In explaining the page's goal he says, "It's a small gesture but I love to see the smile and happiness on people's face if even for a minute while they are there with a loved one."
The experience of his brother's hospitalization obviously changed Hatcher and helped him grasp things that some adults might never realize. How meaningful a tiny act of kindness can be for someone in their darkest hour. What a parent is going through when their child is sick and stuck in the hospital. He saw firsthand what it was like for his family and it struck him to the point where he now wants to ease the pain for other families going through the same thing. If ever there were a silver lining from something so horrible as a sick child, it's this: an older brother gaining wisdom and empathy far beyond his years and doing what he can to help people in their time of need.
Isn't this what we all strive for in raising our children? To have them understand the pain of others and to step in and help if they can? We have no doubt Jerry Hatcher's parents are incredibly proud of him, as well they should be. Huge kudos to this little boy for paying it forward with a small gesture that actually makes a big difference.