5-Year-Old Boy Literally Calls 911 On The Grinch And It's Too Cute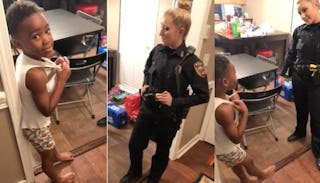 Image via Facebook/TeDera Dwayne Graves II
He was trying to save Christmas from the Grinch
TyLon Pittman, a five-year-old boy from Mississippi, heard of the Grinch and his penchant for stealing Christmas presents and decided he was not having it this year. So, he did what any smart kid would do, and decided to call the police on him.
"I can NOT make this up!" Pittman's brother, TeDera Dwayne Graves, wrote on his Facebook page. He was home for the holidays from the Air Force and captured the entire interaction on video when the cops actually came. "My 5 year old brother called the police and said that the Grinch is stealing people Christmas and he don't want him to steal his so they really came to our house!"
Tylon eventually told his family what he'd done. "911 said, '911,' and guess what happened?" TyLon told the Clarion Ledger. What happened was the police actually showed up at his house to investigate.
Byram Police Officer Lauren Develle heard about his call and decided to go out of her way to make sure the little boy knew Christmas was safe.
"Our dispatcher posted a status on Facebook that she had received a call from a little boy … and he told her he thought the Grinch was going to be coming to steal his Christmas," Develle said. So, she went the extra mile. "I asked her to send me his address," she told the Ledger.
When the family heard someone at the door late that night, and saw a flashlight outside, they didn't know what to think. They reluctantly opened the door and there stood police officer Develle.
It turns out she grew up loving How the Grinch Stole Christmas. "I kind of find it really funny. Every Christmas morning, my dad wears these Grinch pants," she said. "It's his favorite movie. Growing up seeing the Grinch every Christmas was my favorite thing."
The officer old TyLon in the Facebook video, "The Grinch is not going to come steal your Christmas. I won't let that happen."
TyLon told Develle that he had seen the Grinch video on Facebook. He showed her the video, and told that's when he became concerned.
"So what are you going to do if he tries to steal your Christmas?" Develle asked TyLon in the video. "I want y'all to come back to my house and take him to jail," TyLon replied. "You thought the Grinch was going to steal your Christmas, for real?" TyLon's mother then chimed in.
"He steals everybody's Christmas," he said sadly.
Unfortunately for the Grinch, this 5-year-old has it all figured out. When asked how he would handle the situation since he is such a "big boy," TyLon said, "'I'm going to say put your hands behind your back and get down on the ground, then when he gets on the ground, I'm gonna say, 'Why are you stealing Christmas?'" For that, he got a big high five.
Seems like a solid plan to me.
TyLon, who told the 911 operator he wants to be a police officer when he grows up, now has a friend on the force. And Develle will likely have a big hand in helping his career path along with her selfless act. "I would be the one who would go out and try to find the Grinch and try to open up his heart to the joys of Christmas," Develle told the Ledger.
She definitely opened this family's eyes to just how far some people will go to make sure kids stay kids for as long as possible.