Thoughtful Little Boy Leaves Cold Drinks For The Mailman In Sweet Viral Video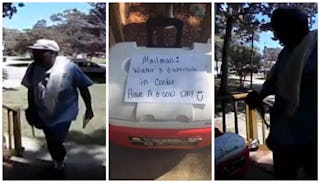 Viral video shows mailman finding cold drinks a little boy left for him on a hot day
Much of the country is enveloped in a gross heat wave this week with temperatures in the 90s and 100s and a heat index even higher than that. As you sop up under-boob sweat and curse the long, hot walk from your car to the entry of your office building, you're probably not thinking of the people who have to be outside all day regardless of the miserable weather.
Luckily, one little boy had such a person on his mind and decided to do something small that actually meant a great deal.
According to The Huffington Post, 8-year-old Carmine McDaniel was worried for Henry Bailey, his neighborhood's mailman. Just like a lot of the country, Newport News, Virginia, where the boy lives, has been pretty hot lately. So McDaniel thought of Bailey suffering in the heat and left him a very cool surprise. Literally.
That's right; little Carmine left out a cooler full of cold water and Gatorade for his mailman to choose from. And the video shows exactly how much it was appreciated.
Carmine's mom Terra is the one who caught the video from the family's security camera feed and decided to share it on Facebook. Of it going viral she says, "I hope people will learn from watching the reaction of the mailman how something so small can mean so much to one person."
In the video, you see Bailey lift the cooler and exclaim, "Oh man, water and Gatorade. Thank God, thank you! Oh my God, yes!" It's clear that Carmine's idea is a pretty fantastic one and will go a long way toward making this mailman's day better.
And this isn't the first time Carmine thought of Bailey as his mom explains that the boy has given him drinks before, but this was the first time he thought to leave them in a cooler when the family wasn't going to be home. Actually, Terra explains that the two are friends and that the boy has accompanied Bailey on the job before with him dressing exactly like his mailman buddy.
Which is absolutely freaking adorable.
We can learn a lot from kids and their big hearts. I can honestly say that it never occurred to me to do something that thoughtful and now, I want to have my kids set up drinks for our garbage collectors and mailmen so they learn the value of brightening someone's day and thinking of another person's needs. As Carmine and Bailey prove, even the tiniest gesture can ignite a true friendship. Or at the very least, provide a little relief on a hot day at work.
This article was originally published on