Boy Flies Off Water Slide 90 Minutes After Its Grand Opening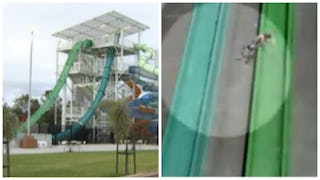 A 10-year-old boy was thrown off a water slide in California
Water parks and amusement parks are a popular tourist attraction, especially in the summer months, but a terrifying incident over the weekend might have parents thinking twice before making the trip to one. Over the weekend, a 10-year-old boy was thrown from a water slide in California. Thankfully the boy is fine, and only suffered a few scrapes and bruises – which is pretty amazing when you see the dramatic scene unfold – but the fact that it happened at all is disturbing enough.
The incident happened at the grand opening of Wave Water Park in Dublin, California last Saturday. After sliding down the ride's 80-foot drop, the boy is hurled off the end of the slide. He then tumbles across the concrete on the side of the slide. A bystander captured the whole thing on a cell phone, so now we can all gasp in horror together.
According to ABC News, the ride had only been open for 90 minutes when the terrifying incident happened, and has been shut down until the park can figure out how something like this could happen. The park is owned by the city, and officials said the boy met the ride's height requirements. They also said the ride had all of the necessary permits and had undergone extensive testing, but the ride didn't have a weight requirement, which the park is reconsidering.
"Obviously that's not what you want to have happen on your first day," Linda Smith, the assistant city manager for the City of Dublin told KGO-TV in San Francisco. "But we want everyone who comes to this park to have a safe and fun experience and that's our primary goal."
ABC News reports that water parks aren't regulated by the federal government; rather, states regulate the parks, which can lead to inconsistencies. More than 4,200 people are injured or taken to the hospital each year, and in the past 7 years, there have been 29 deaths – deaths! – on water slides and amusement rides. Last August, a 10-year-old was killed while riding the world's tallest water slide at a park in Kansas.
After the deadly accident last summer, Jun Zhuang, a professor of industrial and systems engineering at the University of Buffalo, told USA TODAY that it's nearly impossible to test water slides for all possible combinations of weather and wind conditions. Well, that's comforting.
"The newly designed tallest, fastest, steepest water slides . . . attain higher and higher speeds and become more and more dangerous," Zhuang said.
This article was originally published on