LOL Boy Dolls Are Anatomically Correct And It's Freaking Parents Out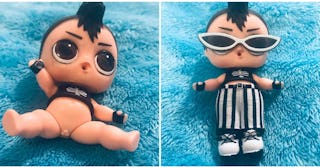 Scary Mommy
A bunch of parents are mad that LOL Surprise! boy dolls have anatomically correct genitalia
Amazon just listed LOL Surprise! dolls as one of the hottest gifts for 2019, and yet, parents are suddenly real mad at the popular toy brand because the boy dolls have — gasp — anatomically correct genitalia. Since LOL Surprise! dolls are meant to be, just that, a surprise until you open it — many parents were surprised to open to package and find that the boy dolls have tiny doll privates.
RELATED: I Went to a Frighteningly Realistic Doll Event to Please My Daughter – Fatherly
"Can someone please tell me why the heck my daughters lol surprise doll came with a surprise?" one parent wrote on Facebook in a now-deleted post (via CafeMom). "Am I crazy to think its highly inappropriate to put a penis and testicles on my daughters toy. I am so extremely pissed."
"You really put the 'Surprise' in LOL Surprise when you put a whole penis and balls on the male LOL doll my poor, innocent little niece got," wrote another angry Twitter user. "Thanks for that awkward and unnecessary conversation."
Who knew that human anatomy would really stress a lot of people out?
The outrage seems to revolve around the fact that people are mad they are being forced to have anatomy conversations with their kids sooner than they wanted to.
Despite the outrage, MGA Entertainment — who manufactures the dolls — stood by their product.
Isaac Larian, CEO and founder of MGA Entertainment, told The New York Post that "all of our LOL Surprise boy dolls have been (and will continue to be) anatomically correct. We believe in the importance of clarity and authenticity with our products and our consumers, and this approach has been carried through all of our products over the past 40 years."
Larian also roasted the offended parents by saying, point-blank, that the website and the packaging clearly states that the boys are anatomically correct.
"In the doll category, anatomically correct dolls have been available for many years," Larian continued. "We currently have a notification on all packaging, website and product retail pages that states the LOL Surprise! boys are anatomically correct. After all, human beings are naturally and anatomically correct. Do we want to fight the nature and give false impression to kids from early age? Parents can decide this and buy or don't buy it."
Despite the outrage, a ton of parents embraced the dolls. "I don't understand why people would have a problem with this. It's body parts, it's natural," wrote one mom.
Others simply didn't see what all the fuss was about.
"Willow opened her new LOL surprise doll at a very busy restaurant and was disappointed to find she got a boy. Shawn and I were questioning the gender of the doll and saying we weren't sure it was a boy. Willow ripped the doll's pants off and yelled 'Look- IT HAS A PENIS! I don't like the penis! I don't like the penis! I don't want the penis!'" a mom wrote on Facebook. "I went from shock that the doll does in fact have a penis, to pride that my kids call things by their correct names, to fear that the cops were about to be called on us."'
Someone should tell the offended parents that they have two solutions here: a) talk to their kids about their bodies or b) don't buy LOL Surprise! dolls anymore.
This article was originally published on