8-Year-Old Pulls Sister From Moving Car And Thwarts Attempted Kidnapping
by Julie Scagell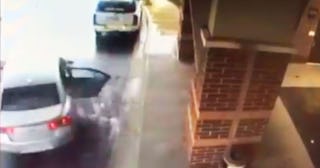 Middletown Division of Police
A man jumped into the vehicle and tried driving away with both kids in the backseat
A young girl in Ohio has a lot to be grateful for after narrowly escaping an attempted kidnapping, and at the top of her list is her little brother, who pulled her from a moving car to safety.
Skylar Weaver, 10, and her 8-year-old brother Chance Blue were in the car with their great-grandmother, Nita Coburn, who tells police she was dropping off her sick daughter at Atrium Medical Center in Middletown, Ohio. Coburn says she got out of the car briefly, believing she'd locked the car behind her, to help her daughter inside and that's when a man jumped in the car with the kids and began to drive away.
Coburn says she heard the kids screaming and ran back outside to see the man in the driver's seat and her great-grandkids in the back. "I started hearing the kids screaming and I ran to them," Coburn tells WCPO. "All I could see was my great-grandbabies in the back seat. … Every time I think about it I want to cry."
Skylar tells Good Morning America that the driver pushed her brother out of the car while holding on to her by her hoodie, trying to keep her inside. But Chance had other plans, holding onto his sister and pulling her with him as he tumbled out of the back passenger side door. "I was acting in the moment because I didn't want my sister to get hurt," Chance says.
The whole incident was caught on camera and shows Coburn running to her car, grabbing the driver's door and was dragged about four car lengths. She said as she attempted to open the driver's side door, she could see the man had a hold of Skylar. She tried again and says she didn't realize at the time that her great-grandkids had escaped out the other side of the car. "It's the most morbid feeling in the world," she says. "No one needs to feel that fear."
Police stopped the man several blocks away and he was immediately arrested and booked into Middletown County Jail on charges including kidnapping, felonious assault, and grand theft. He is being held on bond and will appear in court this week.
It's a miracle someone as young as Chance could keep his cool in the face of such a terrorizing event and manage to hold onto his sister long enough to pull her from the car. His bravery and quick-thinking very well could have saved her life.
The kids reunited with the police officer that caught the would-be kidnapper. "What Chance did was extremely heroic," the police officer said. "It just shows how much he loves his sister."
"This little guy is a hero," police Chief Rodney Muterspaw added. "No question. He pulled his sister out of the car with no concern for his own safety. That is incredible at his age."