Girlfriend Sends Boyfriend To Buy Her Leggings, Hilarity Ensures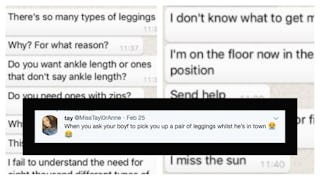 Image via Twitter/MissTayl0rAnne
This boyfriend got hilariously confused trying to buy leggings
Picking out leggings can be kind of overwhelming, right? Calf-length, full-length, short, tall, tummy panel or not (YES PLEASE), and about 40 other options to consider. The fact that even women can get a bit flustered in trying to find the perfect pair means that men, who know not the importance or varying styles of this female wardrobe staple, are one million times more confused.
RELATED: THE BEST, Non-Basic Gift Ideas For Your Boyfriend
Enter a hilarious set of texts shared by Twitter user Tay. She asked her boyfriend Tim to grab her a new pair of black leggings while he was in town and soon, she was inundated by a series of texts that basically add up to a leggings-related meltdown.
Tim wants to know why there's "so many types of leggings," and like, why are there so many stars in the sky, bro? We understand that it's all a bit much, but this is a delicate process and we need a number of options here. Deep breaths, it'll all be alright. But his commentary was only just beginning.
"Do you want ankle length or ones that don't say ankle length? Do you need ones with zips? Why do some have zips?" And then it finally starts to sink in just what he's gotten himself into. "This is incredible," he marvels.
"I fail to understand the need for eight thousand different types of black leggings," he writes naively. "Oh so now I've spotted that they have different thicknesses as well."
Hello, dude. We need leggings for all seasons and all ass types. That's quite a spectrum.
"I'm feeling overwhelmed," he confesses. "No wonder the number of women with anxiety is on the rise." What he says is truth. I get sweaty when faced with the myriad options, even though they're all absolutely necessary. This is why there's wine.
Tim tells Tay he's "on the floor in the foetal position" and begs her to send help. "I've been in this shop for five days now. I miss the sun," he writes.
And then, time to say goodbye to this cruel world. "Tay, I love you. Tell my family I love them too. I'm using extra thick leggings for warmth now, but I don't think I'll last much longer." He thinks he's spotted someone, but no, it was "just a sign advertising another type of legging."
Also black, of course.
Twitter fully understands his plight and is also amused.
Tay says her boyfriend did eventually make it out of the store and even brought home a pair of black leggings.
https://twitter.com/jetpack/status/968177722492116994https://twitter.com/jetpack/status/968179145967570945
Tim even chimed in to assure everyone that all's well.
Tay tell Scary Mommy that Tim's text antics are pretty typical, though she usually does her own shopping, and now we see why. "He was in town whilst I was at work when I asked him to grab the leggings! He is literally always like that! He has a wonderful sense of humour. The couple is enjoying their viral fame. "We both sat reading and looking through everything this evening crying with laughter, it is so bizarre!"
Bizarre for sure, but Tay has her leggings and Tim got out of the store in one piece. All's right in the world.
This article was originally published on