Bradley Cooper And Lady Gaga Performed 'Shallow' Last Night And Now Everyone Thinks They're In Love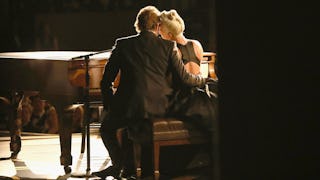 Image via Handout/A.M.P.A.S./Getty Images
All anyone can talk about today is the chemistry between Lady Gaga and Bradley Cooper
The Oscars were last night, and yes, a number of exciting wins occurred including Lady Gaga's much-deserved first statue for Best Original Song for "Shallow," the duet she and Cooper performed at the awards ceremony. It's that performance that has the whole world talking this morning about the pair's incredible connection that you truly have to see to believe.
Cooper and Gaga appeared out of the audience as the opening strains of the song began to play. They were hand-in-hand, wearing coordinating outfits no less, and launched into their completely stunning performance that included mucho eye contact, piano bench cuddling, and meaningful looks. It's like they were messing with those of us who deeply believe they're in real love. The chemistry between the co-stars is absolutely undeniable. Anyone with eyes can see that they have something very special between them.
I mean, LOOK AT THEM.
People were basically freaking out and assuming Cooper would leave his girlfriend, Irina Shayk, to have a runaway romance with Gaga.
Us viewers at home weren't the only ones to notice the sparks. Thanks to the always hilarious Tiffany Haddish for saying what we were all thinking.
Those looks. Everyone wants there to be a Bradley Cooper to their Lady Gaga.
Like, people 100 percent believed them.
Gaga's heartfelt speech after accepting the award for Best Original Song did little to quell the feeling that she and Cooper are pretty much madly in love. "Bradley: there's not a single person on the planet that could have sung this song with me but you," said a tearful Gaga. "Thank you for believing in us."
She went on to inspire the masses with a message for anyone with a big dream. "And if you are at home and you're sitting on your couch, and you are watching this right now, all I have to say is that this is hard work. I've worked hard for a long time, and … it's not about winning. But what it's about is not giving up. If you have a dream, fight for it. There's a discipline for passion, and it's not about how many times you get rejected or you fall down, or you're beaten. It's about how many times you stand up, and are brave, and you keep going."
This woman is purely magical and it's easy to see why Cooper would run away with her. LOL JK. But kinda not?
Real talk, for anyone with hopes and dreams of Cooper and the newly un-engaged Gaga beginning a torrid love affair, it's clear that's simply not happening. Case in point, Cooper's long-time girlfriend (and mother of their baby girl) was the first out of her seat to cheer for the pair after their incredible performance.
And the sweet couple had a lovey red carpet connection all their own.
So while all is obviously well and good with Cooper and Shayk, the Twitterverse will always have this Oscar performance — and A Star Is Born on Blu-ray — to keep their hopes alive of Jackson and Ally happening for real.