17 Sad Break-Up Poems Anyone Who Has Experienced Heartbreak Will Understand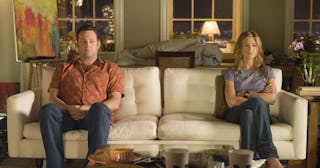 Universal Pictures
As the song goes, breaking up is, indeed, hard to do. Whether you're the dumper or the dumpee — or you had a rare mutual break-up — it sucks. Your heart is hurting either way, you're reading love poems and kiss quotes, and there's a feeling of sadness in the air. If you are in search of some comfort or a poetic muse, here are break-up poems to help you get through this rough patch, written by people who've been there.
"What my Lips Have Kissed, and Where, and Why" By Edna St. Vincent Millay
What lips my lips have kissed, and where, and why,
I have forgotten, and what arms have lain Under my head till morning; but the rain Is full of ghosts tonight, that tap and sigh Upon the glass and listen for reply, And in my heart there stirs a quiet pain For unremembered lads that not again Will turn to me at midnight with a cry. Thus in the winter stands the lonely tree, Nor knows what birds have vanished one by one, Yet knows its boughs more silent than before: I cannot say what loves have come and gone, I only know that summer sang in me A little while, that in me sings no more.
"Heavy" by Mary Oliver
That time
I thought I could not go any closer to grief without dying I went closer, and I did not die. Surely God had his hand in this, as well as friends. Still, I was bent, and my laughter, as the poet said, was nowhere to be found. Then said my friend Daniel, (brave even among lions), "It's not the weight you carry but how you carry it – books, bricks, grief – it's all in the way you embrace it, balance it, carry it when you cannot, and would not, put it down." So I went practicing. Have you noticed? Have you heard the laughter that comes, now and again, out of my startled mouth? How I linger to admire, admire, admire the things of this world that are kind, and maybe also troubled – roses in the wind, the sea geese on the steep waves, a love to which there is no reply?
"The Fist" by Derek Walcott
This fist clenched round my heart
loosens a little, and I gasp brightness; but it tightens again. When have I ever not loved the pain of love? But this has moved past love to mania. This has the strong clench of the madman, this is gripping the ledge of unreason, before plunging howling into the abyss. Hold hard then, heart. This way at least you live.
"Sonnet 139" by William Shakespeare
O, call not me to justify the wrong
That thy unkindness lays upon my heart; Wound me not with thine eye but with thy tongue; Use power with power, and slay me not by art. Tell me thou lov'st elsewhere; but in my sight, Dear heart, forbear to glance thine eye aside; What need'st thou wound with cunning when thy might Is more than my o'erpressed defense can bide? Let me excuse thee: ah, my love well knows Her pretty looks have been mine enemies; And therefore from my face she turns my foes, That they elsewhere might dart their injuries— Yet do not so; but since I am near slain, Kill me outright with looks and rid my pain.
"Never Give All the Heart" by W. B. Yeats
Never give all the heart, for love
Will hardly seem worth thinking of To passionate women if it seem Certain, and they never dream That it fades out from kiss to kiss; For everything that's lovely is But a brief, dreamy, kind delight. O never give the heart outright, For they, for all smooth lips can say, Have given their hearts up to the play. And who could play it well enough If deaf and dumb and blind with love? He that made this knows all the cost, For he gave all his heart and lost.
"Proud Of My Broken Heart" by Emily Dickenson
Proud of my broken heart, since thou didst break it,
Proud of the pain I did not feel till thee,
Proud of my night, since thou with moons dost slake it,
Not to partake thy passion, my humility.
Thou can'st not boast, like Jesus, drunken without companion
Was the strong cup of anguish brewed for the Nazarene
Thou can'st not pierce tradition with the peerless puncture,
See! I usurped thy crucifix to honor mine!
"Mad Girl's Love Song" by Sylvia Plath
I shut my eyes and all the world drops dead;
I lift my lids and all is born again. (I think I made you up inside my head.) The stars go waltzing out in blue and red, And arbitrary blackness gallops in: I shut my eyes and all the world drops dead. I dreamed that you bewitched me into bed And sung me moon-struck, kissed me quite insane. (I think I made you up inside my head.) God topples from the sky, hell's fires fade: Exit seraphim and Satan's men: I shut my eyes and all the world drops dead. I fancied you'd return the way you said, But I grow old and I forget your name. (I think I made you up inside my head.) I should have loved a thunderbird instead; At least when spring comes they roar back again. I shut my eyes and all the world drops dead. (I think I made you up inside my head.)
"This Was Once a Love Poem" by Jane Hirschfeld
This was once a love poem,
before its haunches thickened, its breath grew short, before it found itself sitting, perplexed and a little embarrassed, on the fender of a parked car, while many people passed by without turning their heads. It remembers itself dressing as if for a great engagement. It remembers choosing these shoes, this scarf or tie. Once, it drank beer for breakfast, drifted its feet in a river side by side with the feet of another. Once it pretended shyness, then grew truly shy, dropping its head so the hair would fall forward, so the eyes would not be seen. It spoke with passion of history, of art. It was lovely then, this poem.
"You Fit Into Me" by Margaret Atwood
You fit into me
like a hook into an eye a fish hook an open eye
"A Winter's Tale" by D.H. Lawrence
Yesterday the fields were only grey with scattered snow,
And now the longest grass-leaves hardly emerge; Yet her deep footsteps mark the snow, and go On towards the pines at the hills' white verge. I cannot see her, since the mist's white scarf Obscures the dark wood and the dull orange sky; But she's waiting, I know, impatient and cold, half Sobs struggling into her frosty sigh. Why does she come so promptly, when she must know That she's only the nearer to the inevitable farewell; The hill is steep, on the snow my steps are slow – Why does she come, when she knows what I have to tell?
"Movement Song" by Audre Lord
I have studied the tight curls on the back of your neck
moving away from me beyond anger or failure your face in the evening schools of longing through mornings of wish and ripen we were always saying goodbye in the blood in the bone over coffee before dashing for elevators going in opposite directions without goodbyes. Do not remember me as a bridge nor a roof as the maker of legends nor as a trap door to that world where black and white clericals hang on the edge of beauty in five oclock elevators twitching their shoulders to avoid other flesh and now there is someone to speak for them moving away from me into tomorrows morning of wish and ripen your goodbye is a promise of lightning in the last angels hand unwelcome and warning the sands have run out against us we were rewarded by journeys away from each other into desire into mornings alone where excuse and endurance mingle conceiving decision. Do not remember me as disaster nor as the keeper of secrets I am a fellow rider in the cattle cars watching you move slowly out of my bed saying we cannot waste time only ourselves.
"Are All The Breakups In Your Poems Real?" by Aimee Nezhukumatathil
If by real you mean as real as a shark tooth stuck
in your heel, the wetness of a finished lollipop stick, the surprise of a thumbtack in your purse— then Yes, every last page is true, every nuance, bit, and bite. Wait. I have made them up—all of them— and when I say I am married, it means I married all of them, a whole neighborhood of past loves. Can you imagine the number of bouquets, how many slices of cake? Even now, my husbands plan a great meal for us—one chops up some parsley, one stirs a bubbling pot on the stove. One changes the baby, and one sleeps in a fat chair. One flips through the newspaper, another whistles while he shaves in the shower, and every single one of them wonders what time I am coming home.
"Our Many Never Endings" by Courtney Queeney
You entered the bedroom and fell to your knees.
I wait the rest of my life to hear you say, I made a mistake.
Inside my chest, a mangle.
Inside yours, a deflating balloon.
You took the vacuum cleaner, the ironing board, the dish rack
and left me some lint, an iron to scorch shirts, one chipped plate.
I would like to say at least we perfected
entrances and exits, like professional stage actors
honing their craft, but even that's a fantasy.
Mostly on TV the lions ate the hyenas
but sometimes the hyenas
formed a posse, and tore a lion up.
Occasionally you came in out of the rain
and I was glad to have you.
"Unto a broken heart" by Emily Dickinson
Unto a broken heart
No other one may go Without the high prerogative Itself hath suffered too.
"The Love Song of J. Alfred Prufrock" by T.S. Elliot
Let us go then, you and I,When the evening is spread out against the skyLike a patient etherized upon a table;Let us go, through certain half-deserted streets,The muttering retreatsOf restless nights in one-night cheap hotelsAnd sawdust restaurants with oyster-shells:Streets that follow like a tedious argumentOf insidious intentTo lead you to an overwhelming question …Oh, do not ask, "What is it?"Let us go and make our visit.In the room the women come and goTalking of Michelangelo.Read the full poem here.
"I Crave Your Mouth, Your Voice, Your Hair" by Pablo Neruda
I crave your mouth, your voice, your hair.
Silent and starving, I prowl through the streets. Bread does not nourish me, dawn disrupts me, all day I hunt for the liquid measure of your steps.
I hunger for your sleek laugh,
your hands the color of a savage harvest, hunger for the pale stones of your fingernails, I want to eat your skin like a whole almond.
I want to eat the sunbeam flaring in your lovely body,
the sovereign nose of your arrogant face, I want to eat the fleeting shade of your lashes,
and I pace around hungry, sniffing the twilight,
hunting for you, for your hot heart, like a puma in the barrens of Quitratue.
"I Loved You…" by Aleksander Pushkin
I loved you: and, it may be, from my soul
The former love has never gone away, But let it not recall to you my dole; I wish not sadden you in any way.
I loved you silently, without hope, fully,
In diffidence, in jealousy, in pain; I loved you so tenderly and truly, As let you else be loved by any man.
Related: How To Break Up With Someone You Live With And Still Retain Your Integrity
This article was originally published on