Middle School Asks For Male Mentors For 'Breakfast With Dad' Event, 600 Show Up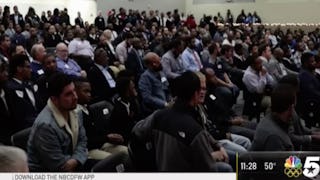 Image via Facebook
The school was expecting 50 dads and got 600
When it comes to parenting, dads don't always get the recognition they deserve. As more and more men are making fatherhood a real priority, the tide is starting to turn, and there's no better sign than what happened at a Dallas middle school middle school recently.
Worried that not enough men would show up for their "Breakfast with Dad" event, the school took to Facebook to invite more fathers. They ended up with more than they bargained for.
When Dr. Billy Earle Dade Middle School in Dallas put together a "Breakfast With Dad" event for their male students, he was nervous that they wouldn't get the participation they wanted. To guard against low attendance, they posted a status on Facebook asking 50 men to show up and serve as mentors to the young boys at the school.
"We are need of at least 50 or more additional male mentors who can devote 1 hour of their Thursday morning next week to this cause. If you have some flexibility in your schedule and can give one hour of your time to a.middle school student. Please respond below and Donald Ray Jr Parish will send you a formal confirmation and details! We Need YOU!"
The school wanted to ensure that every student, particularly the boys who might not have a father figure in their lives, had someone there to help mentor them.
They might as well have sent out the bat signal, because some 600 superheroes showed up to lend a hand with the school's kids, participating in the morning's activities in myriad ways, from simply engaging the boys in conversation to helping them tie their ties.
The local NBC station shared video from the enormously successful event.
Just by showing up, these men made a meaningful impact on the boys at that school, and displayed real commitment to raising the next generation of fathers.
Men are getting more and more involved in the parenting process, and they have been for decades now. This isn't the 1950s anymore, and the huge number of guys who were willing to take some time out of their lives to show up and support the students at Dade Middle School is more than enough proof of that.
The event's organizer, the Rev. Donald Parish Jr. of True Lee Missionary Baptist Church, explained why a male mentor was so essential for young boys.
"When a young person sees someone other than their teacher take interest in them, it inspires them. That's what we want to see happen," Parish said. "These kids need all the support they can get to be successful."
Thanks to the men who showed up to help, those boys are already in a better position to succeed.
This article was originally published on