The First Trailer For The 'Breaking Bad' Movie Is Here
by Christina Marfice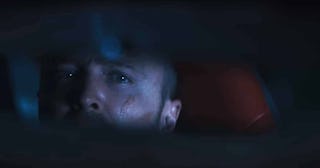 Netflix
Here's our first look at Aaron Paul in the upcoming Breaking Bad movie
Everyone who watched Breaking Bad, either when it aired or later when the entire series was available on streaming platforms, is anxiously waiting for the movie to drop. Ever since Netflix announced it was making a follow-up movie that would explore what happened at the end of the series, fans have been on the edge of their seats, just like they used to be watching the show, waiting to find out more.
Well, during the Emmys last night, Netflix released the first trailer. And while it doesn't tell us much as far as the questions we have about the characters and their fates, it does confirm that El Camino: A Breaking Bad Movie is set immediately after the end of the final episode.
In the trailer, which is really more of a teaser because of how little it gives away, we see Jesse Pinkman, played by Aaron Paul, still sitting in his getaway car, face tear-streaked after his emotional escape from the neo-nazis who had been holding him prisoner. If you remember the gut-wrenching finale (and I am sure you do), Walter White orchestrated Jesse's escape, and died in the process. Or so we thought.
As Jesse sits in the car, he lights up a cigarette, and a breaking news report comes over the radio talking about the massacre that Jesse has just left. According to the news report, there were nine bodies found there, when there should have been 10. Is it a clue that Walter somehow, miraculously, escaped? People immediately took note.
But whether Walt will be returning or not, fans are excited to find out the fate of Jesse, who always had a heart of gold despite the life of struggle that lead him to partner with Walt and start making and selling drugs.
El Camino: A Breaking Bad Movie was written and directed by Vince Gilligan, who created the original series, so you know it's going to be a seamless continuation of the story. According to Netflix's official synopsis, here's what it's about: "In the wake of his dramatic escape from captivity, Jesse must come to terms with his past in order to forge some kind of future." The streaming giant confirmed the return of a few minor characters, like Skinny Pete (Charles Baker) and Badger (Matt L. Jones).
The Breaking Bad movie premieres in just a few short weeks, and in addition to being released on Netflix, it will also be available to watch in select theaters across the U.S. for one weekend only, from Oct. 11 to Oct. 13. Until then, fans will just have to keep speculating until, finally, five years later, we learn the truth about what happened to Jesse.