Stop Buying Pink Ribbon Merchandise, And Donate Money Instead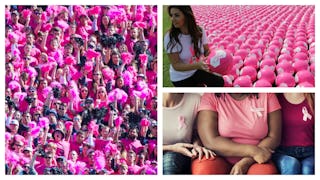 Icon Sports Wire / Getty Images (left photo) ANWAR AMRO / Getty Images (top right) Rawpixel.com / Shutterstock (bottom right)
They call it "pinking." In 2015, the New York Times notes, the White House went pink for Breast Cancer Awareness Month in October. Ford sold "pink warrior" decals. In one of the most questionable cancer awareness moves in the history of cancer awareness, police used pink handcuffs. Basically, this October, like every October, will bowl us over in a tidal wave of pink, a stranglehold of pink ribbons, everything plastered with "Save the Ta-Tas" decals, in the name of breast cancer awareness.
But the activism and "awareness" campaigns have become half the problem. Breast Cancer Consortorium, which claims to promote "critical thinking on breast cancer," calls October "Pinktober" and says that it is "a commercial adaptation of National Breast Cancer Awareness Month that promotes upbeat simple awareness messages about breast cancer and encourages people to participate in pink ribbon culture and the war against breast cancer especially through the purchase and display of pink paraphernalia."
Notice "awareness." Not "detection." Not "prevention." Not "raising money toward the eradication of." Instead, we get pink merch corporations hock for profit and upbeat messages — about cancer. There's no guarantee your purchase is funding breast cancer research or prevention. Often, it's not.
Millennials and the generation above them probably can't recall a time when they didn't know what a pink ribbon meant. But back in the day, breast cancer carried a terrible taboo. Feminists and other activists battled to put it into the public eye, to take away its shame, says the Guardian. They had to fight not only for research, but for funds for basic patient support. But fight they did, with pink ribbons worn by survivors "as a mark of solidarity" that they were still alive, still here, and not going anywhere. It offered hope and awareness.
Then the Susan G. Komen Foundation started "aggressively promoting" the ribbon; they got bigger and bigger "and the unhealthy business relationships it had with firms that wanted to exploit the ribbon, along with survivors and activists interested in directly addressing breast cancer."
Hence: Pinktober, where everyone sells everything in varying hues of pastel pink, and the more we accumulate, the more we hate cancer. "I call it the puke campaign," Marlene McCarthy, director of the Rhode Island Breast Cancer Coalition, told the New York Times. She has metastatic breast cancer.
To make it all worse, most of these so-called awareness campaigns don't send money (or much money) to fight cancer. The Susan G. Komen Foundation itself has had issues with the amount of money spent on actually finding a cure and spending too much on overhead. When you're donating money to breast cancer research, ask what percentage of your purchase is going toward charity and which charity it's going to. Then search through something like Charity Navigator what percentage of that charity's intake actually goes toward helping patients, preventing cancer, research efforts, etc.
Then, when you're all done with that, just write a check straight to an actual, reputable charity, which will maximize your donation. As breast cancer survivor Rachel Garlinghouse says, "I'd rather see people donate money to the organization directly, so they receive 100% of the funds. I hate seeing companies capitalize on a disease, knowing they're only donating a very small portion of their profits to a worthy organization."
Take Hooters as an example: This year, they're telling us to "Give a Hoot: Join Us in the Fight Against Breast Cancer." (The Os are pink ribbons instead of breasts). You can add a donation to your bill, buy a calendar ($1 goes to charity), buy a pink bracelet (unclear how much, if any, money gets donated), or buy a "pink drink" (all proceeds go to charity. But how to define "proceeds"?). They're partnered with the V Foundation for Cancer Research, which spends 88.2% of its funds actually doing what it says it will, according to Charity Navigator. By the time it's all said and done? Just straight donate money. The cause is too important.
The makeup brands have come out in force this year too. Vanity Fair has a list of 18 of them donating to the cause; Estée Lauder will donate 100% of net profits (not proceeds, but profits) from a makeup kit to the Breast Cancer Research Foundation (BCRF), which has a 90.1% grade on Charity Navigator. Bobbi Brown will donate 11 bucks from a $55 bronzing powder set, up to $90,000, money going to the BCRF. From September 24 to next September 22, Aveda will give $4 of a $26 hand cream, up to $331,000 to… ? It is a mystery, but it has to do with breast cancer. You get the picture. It would be simpler, more transparent, and easier if everyone just gave their money to the BCRF directly.
Then there's Walmart, which has hundreds of pages of "breast cancer awareness" items, in various medicinal shades of pink, none of which give anything to charity. They're pure profit for the Mart of Wal. Dick's Sporting Goods has hundreds of items for "breast cancer awareness," and brags it raised a whopping $50,000 for the National Breast Cancer Foundation last year (charity rating of 90.7%). Last year, with all proceeds going to charity, the Myrtle Beach BFF Pink Ribbon Run made about one-fifth of that. One fun run. Five fun runs could have kicked Dick's ass. BIC's Breast Cancer Awareness pens, carried by Target, somehow benefit the Susan G. Komen Foundation, to which they have donated more than $617,000 since 2008 (in other words, not much). They vow to donate $50,000 between 2016–17 regardless of sales. So your stationery purchase became even less meaningless.
I realize that something is far better than nothing, so the effort of these companies is not unnoticed. Also, sometimes folks feel more inspired to give when they get something in return, and these special promotions take care of that aspect. Still, a direct donation to a reputable organization helps your moms, sisters, aunts, cousins, nieces, daughters, and friends far more.
Then there's the other side of it. Christine Organ's best friend was diagnosed with breast cancer when she was only 37. She says, "There's nothing cute about cancer. Even though there is beauty and strength in the storm, cancer is an absolutely brutal disease. Not only does pinking direct only a fraction of the money spent to cancer support and research organizations, but it glosses over the very real toll that cancer takes on a person and their family. Cancer awareness isn't about pink lip gloss and pink water bottles; it's about saving lives. Pinkwashing ignores the very real side of cancer — which isn't all that pretty."
It boils down to this: The pink crap? The ribbons? It's too easily (usually) exploited for profit. Instead of pinking yourself out in breast cancer awareness gear, pick up your checkbook, pick a charity, and donate an amount that won't get funneled through corporate profits and losses before it reaches, perhaps, a questionable organization. Yeah, your buddies won't see that you're all anti-cancer. But if that's your point, you're missing the real one anyway.
This article was originally published on