Brené Brown Is Getting Her Own Netflix Special And She's Going To Heal Your Soul
by Thea Glassman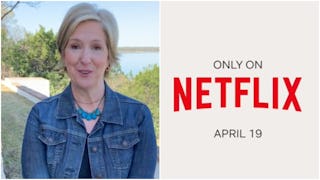 Image via Brené Brown/Instagram
This new Netflix special from Brené Brown is here to empower you
Queer Eye restored our faith in goodness. Tidying Up With Marie Kondo made us rethink the spaces we live in. And now Netflix is bringing us Brené Brown, a social scientist who is here to heal our souls. The streaming service will release a special called Brené Brown: The Call to Courage on April 19 and it's all about empowerment.
First up: a little about Brown. She's University of Houston research professor who studies shame, vulnerability, courage, and empathy. She's written five New York Times bestsellers and went viral for her 2010 TEDx Houston talk The Power of Vulnerability (it racked up 38 million views and is one of the top five most watched Ted Talks ever).
Brown's Netflix hour-long special was shot Royce Hall at UCLA, where she dug into the topics of courage and vulnerability, and the link between the two. Fairly safe to say we'll all be Queer Eye-level of crying by the end.
We have to wait a whole month to get a heaping serving of Brown's wisdom, but in the meantime, there's plenty of her thoughts and research out there to tide us over. In a 2013 interview with Oprah, the social scientist gave a refreshing take on living an open, honest life.
"Vulnerability is when my husband and I are on the verge of a fight and I say, 'Let's stop, because I'm making up this story about what's happening right now, and it's that you don't think I look cute or you're disappointed in me,' and he's like, 'What are you talking about?' And I say, 'I love you, and I'm in fear right now,'" she explained.
Brown also noted that the word courage comes from the Latin word cor, which means heart. "So the original definition was to share all of yourself, share your whole story, with your whole heart," she said. "An act of courage was an act of storytelling, which I think is true."
Into all of this? Head to Brown's Instagram where there's plenty of inspiring, empowering content to go around — and tide you over until April 19.
You can also check out one of her books, "The Gifts of Imperfection," which takes a deep dive look into embracing who you truly are (and, yes, apparently that's actually possible).
"In the process of collecting thousands of stories from diverse men and women who lived all over the country — ranging in age from eighteen to eighty-seven — I saw new patterns that I wanted to know more about," Brown wrote. "Yes, we all struggle with shame and the fear of not being enough. And, yes, many of us are afraid to let our true selves be seen and known. But in this huge mound of data there was also story after story of men and women who were living these amazing and inspiring lives."
Impatiently counting down the days until April 19. Cancel all your plans because we're all about go on a real soul-searching journey.
This article was originally published on