NHL Player Refuses To Give Up Until Little Girl Gets Puck He Meant To Be Hers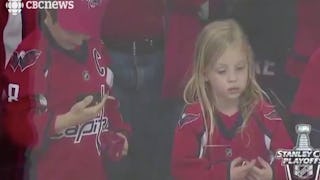 Image via Twitter/CBC News: The National
Capitals hockey player Brett Connelly makes sure a girl watching the game got her puck
Washington Capitals right winger, Brett Connelly, spotted an adorable fan while the team was warming up before their Eastern Conference series game against the Columbus Blue Jackets and decided to throw her a puck. Unfortunately it took him three attempts to actually get the puck in her hands because the man catching them kept giving them to the boys instead.
Six-year-old Keelan Moxley was attending her very first playoff game on Sunday and was standing next to the glass in between a couple little boys when Connolly grabbed a puck and tossed it over the glass to her. Unfortunately, a man standing behind the kids grabbed it and passed it to one of the boys. Connolly, frustrated, returned with another puck and the man did the same thing again.
Connelly then pounded on the glass like, "Hey dipshit, the puck was actually for the little girl, not the boys so I'm gonna try this once more and if you fuck it up this time, I'm coming over the glass next." Finally, she gets her puck. CBC News: The National posted the moment on their Twitter page, asking Moxley for a play-by-play of exactly what happened.
When asked how she felt when the other boys were given the puck and not her. "I felt devastated, sad," she said. "But I felt good for those two boys — but I was kind of sad because I didn't get it. But Brett Connelly kept banging at the glass at me," she continued. And when she finally got the puck? "I felt happy. Really happy," she said, all smiles.
She "felt good" for those boys. It seems this little girl has more class than most.
Even though the the moment ended well for Moxley, the irony of the situation wasn't lost on anyone who saw the video:
Of course a lot of folks came to the man's defense assuming he was the dad and that he was simply giving one to each of his children. But Keelan's mom hopped in to clear up that this isn't her dad and she's an only child. Oh, and she plays Peewee hockey.
Sometimes a little patience pays off. Capitals owner Ted Leonsis has invited Moxley and her family to sit in seats along the glass for Game 5 of the playoff series on Saturday, USA Today reports. So there.
Unfortunately, the Capitals lost the game, but we're sure Moxley considered the day a win in her book.
This article was originally published on