Hero Bride Wears T-Rex Costume For Her 'First Look' With Husband To Be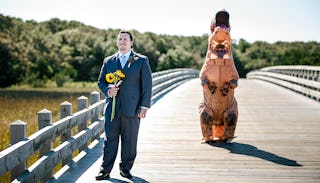 Bride's hilarious 'First Look' prank brings a whole new meaning to the term 'Bridezilla'
The first look, the moment when a bride and groom see each other for the first time on their wedding day, is one usually filled with tears of joy, tender kisses and lots of ooohs and aaahs over how fabulous the bride looks. It's a can't miss moment for the photographer and videographer, and part of the day that the couple will remember for ever.
Tom and Beth Gardner's first look was all of these things, and more. Because when Tom turned around to see his beautiful bride for the first time, instead of seeing Beth looking all beautiful in her gown, he saw a T-Rex waiting for him. In sickness, in health, and in giant puffy dinosaur costumes, right?
Photographer Paul Seiler said the unique reveal was the bride's idea, and had a special meaning. The idea came from Beth," he told Scary Mommy. "Her middle name is "Rex" which is a family name of theirs." They pulled off the prank with the help of wedding consultant Sarah Munroe. Videographer Jon Clark, who captured the moment, said he'd never shot anything like this before and realized right away how amazing the results could be. He knew it had to be a pretty special bride that would be willing to do something so daring on her wedding day. "It's rare that a bride would even consider something like this considering the potential hair and makeup issues that could come from it," he said. "So without being too pushy, we let her know how amazing it would be to make it happen."
It's obvious these two were made for each other. Tom has the best laugh when he sees his bride with her tiny T-Rex arms flapping. He helps her slip out the costume so easily it's like they practiced, and they start loving up on each other like one of them wasn't just dressed like an background extra from Jurassic Park III. It's great.
Beth isn't the only one who planned a sneaky surprise for her betrothed on their wedding day. While her T-Rex reveal was hysterical, Tom's plan was much sweeter. See those sunflowers he's holding in the video? The entire wedding day while they were separated and getting ready, he sent her an hourly sunflower with a note attached. Those ones in his hands were the final pieces to the bouquet. "It was easily the sweetest gesture I've ever seen a groom make on wedding day," said Seiler.
Clark said while the reveal was hysterical, it really speaks to how great these two are as a couple. "Getting to see Tom's face and reaction when he turned around just really made the whole moment worth while," he said. "People may think this is just a funny video, but I think it really shows the dynamic this couple has with each other. It tells me they have a life filled with fun moments ahead of them."
The fun didn't stop at the first reveal. Seiler knew that the couple who was game enough to do a prehistoric first look just might be up for a photo shoot that he'd been wanting to try for a long time — an epic wedding party water gun battle. "It was definitely one of those moments where you meet someone and immediately discover just how well you're going to work together by the sincere enthusiasm you have on every, single topic," he said.
Congratulations to the happy couple, both on their marriage and for having kick-ass wedding photos that will never get tucked away and forgotten in a dusty album.
This article was originally published on